Post by Paul Sarnian on Jun 22, 2008 3:04:59 GMT
Mid-summer's Ball
Although this was the 'title' of this episode, it was really only mentioned at the beginning and the end so that I decided to discuss rather the central role of Stella in this episode which one might call

Stella's Saga
As part of the Mid-summer's Ball it was hoped to rejoin the Glenbogle Stone which was broken at the battle of Bannockburn against the English soldiers in 1314; the stone was thrown and smashed into 3 pieces against a tree of which the Englishman, Lord Cranthorne, head of Lascelles Bank, who held the loan on Glenbogle, held 2 parts of the stone and Hector one piece. It is planned to have all the pieces joined together at a Ceremony at the Mid-summer's Ball,
At the beginning of the episode, we see Archie and the others coming out of the Big House towards the Ceremony area and Archie explains all their duties for the evening;
Hector says that he will take care of the Stone Fragment which he keeps safe in a cake tin! "You can count on me" he tells Archie.
Archie says that this is a great evening for Glenbogle and Stella revels in saying that "this is our night" to spite Lexie to whom she delights in pointing out that she (Lexie) will be in the kitchen preparing the banquet whilst she (Stella) will be looking after things with Archie! The stage is set for the day's antics by Stella........
We next see the arrival of Toby Winslow, Stella's immediate boss,
and they go into the house where Toby tells Stella that he knows that Cranthorne is planning on handing Glenbogle back to Archie canceling the loan. "Though he has been known to change his mind on matters!"
Toby then points out to Stella that a wonderful opportunity has come up for her in South America and shows her the details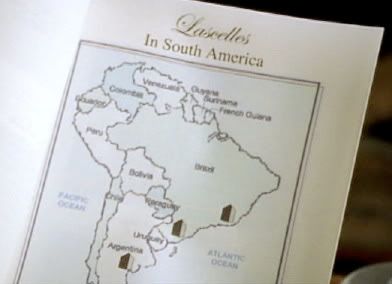 Toby then points out that things would have to go badly wrong for her to have to stay at Glenbogle.
Stella is disgusted at this, as she realises that she has fallen in love with Archie and does not want to leave though she does not reveal this to anyone.
Stella says she will think about the offer but decides, in fact, to sabotage the visit in the hopes that she will be able to stay on longer.
Her first act is finding Duncan sprucing up the car to collect Lord Cranthorne and she says that he would be so impressed to arrive in the Land Rover after a tour through the Estate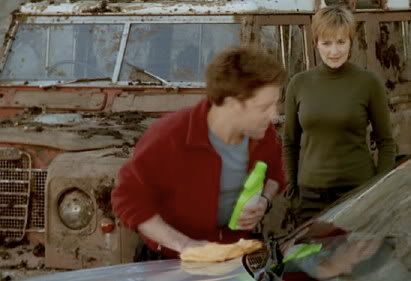 She then proceeds to the kitchen to find what Lexie is preparing for the dinner that evening and she shows her the beautiful array of food that she is preparing for them all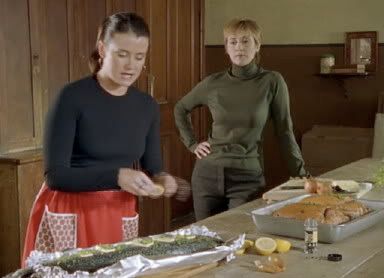 Stella says that he would prefer to have some traditional food and suggests Crofter's Stew made from the scrap ends of mutton much to Lexie's disgust but never the less obeys Stella's wish.
The scene now swings back to the entrance with the arrival of an exhausted looking Lord Cranthorne coming out of the Land Rover and being greeted by Toby and Archie
Entering the House, they are met by Stella showing them a replica of the Glenbogle Stone which they hope to reunite the original at the Ball next evening
At the dinner in the evening, Hector proudly shows off the Glenbogle fragment in a cake tin which he puts in a case and locks it, placing the key in a silver covered dish on the sideboard for security!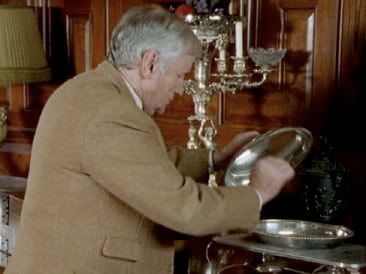 Lexie then brings in the Crofter's Stew and serves some to Cranthorne who looks at it with disgust.
Next day Hector is horrified to find that the stone fragment missing and after several attempts to find it, Duncan discovers it in the city rubbish dump
and Hector, Molly, Golly and Duncan are brought back by PC Callum who asks Archie "Are these yours?" to which he replies "They are mine!"
In the meantime, as a result of the Crofter's Stew, Archie tries to get a chef and Stella suggests someone who (she knows) will not work for Cranthorne; Golly tried to get the Boglie Boys to play the music. With getting a chef, Archie tells Lexie that she will be able to come to the Ball after all, saying that he was getting a chef in to free her to come. She quickly gets a gown which she cannot afford
but Duncan pays for it for her!
Finally, as the chef and the Boglie Boys refused to stay, Cranthorne said to Archie "Cancel the Ball". Archie says "No" , that he will resolve the situation and Cranthorne says he is amazed how he can keep going when everything seems to be going wrong. Archie says that he has had a lot of practice! He then gets Lexie to go back to the kitchen and miss the Ball and she puts the dress away.
When Cranthorne suggests canceling the Ball, Stella takes her chance and says to Archie "Would it be the worst thing if I had to stay?" Archie doesn't answer but starts him really thinking that he really loves Lexie and has done so all the time.
As Archie has told Cranthorne that things must go on as the guests will all be on their way, Stella realises that she must persist with her plans and, on the evening of the Ball, finds Duncan and persuades him to take the guests on a walking tour of the Estate, before going into the celebrations.
Duncan announces to the guest that it is "A Day in the Life of a Head Ranger" They finally arrive back at the House, disheveled and exhausted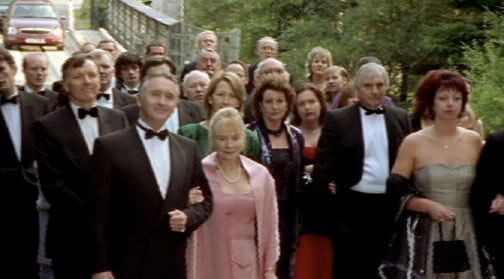 The party members come together for the ceremony of reuniting the fragments of the Glenbogle Stone and friendship between Glenbogle and the English represented by Lord Cranthorne. The two fragments of Cranthorne are formally produced
and Hector goes to get the third piece to find it missing again!
He discusses it with Kilwillie and finally believe that Cranthorne must have taken it to stop the reunion.
At that point Lexie determines that Stella has been responsible for all the problems and confronts Stella who finally breaks down and admits that she did do all these things which she now realises was wrong, because "She wanted more time with Archie" She then says to Lexie "Are you going to tell Archie?" to which Lexie replies "No, I think it better if you tell him"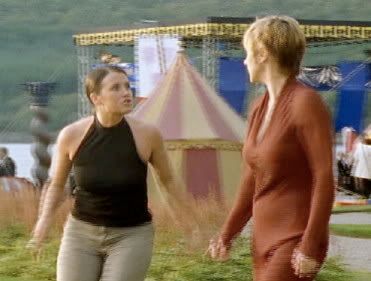 Lexie then gets Archie to go to Stella who is packing up her suitcase to leave and finally Stella admits to all she had done and confesses to him that "I think I have fallen in love with you"
She then produces the missing Fragment from her case and gives it to him.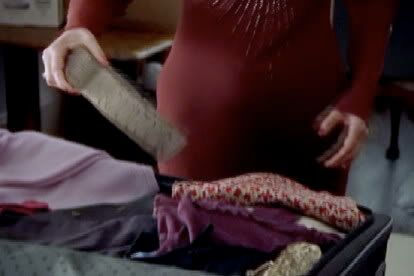 In the meantime, the Ceremony has continued and all are looking glum, especially Hector, as they put down the two fragments and he does not have the third part
At that moment Archie arrives with the third part
and it is placed with the other two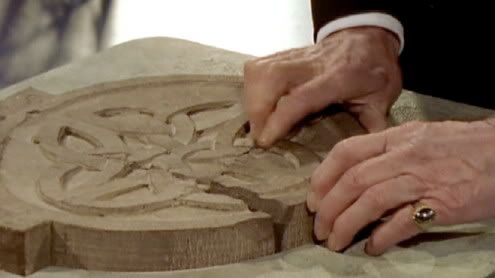 Cranthorne then announces to Archie that "Glenbogle is now restored to you again" and the celebrations continue.
Stella then quietly departs from the House to her waiting car; Archie goes to bid her farewell and I can't help but include a second picture showing her shed a tear (in case you missed it before!)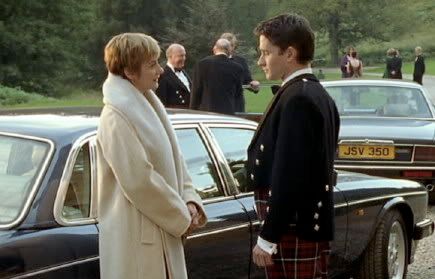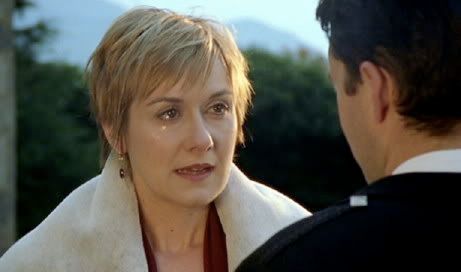 This ends the Stella Saga but for completeness of the Mid-summer Ball, I will continue with:
The scene now moves to the kitchen where we see Lexie cleaning up after the meal - it certainly looked a lot of work for one person!! After a short while, Archie turns to Lexie and says to her "Lexie I love you - I think I have always have - I want you to be my wife"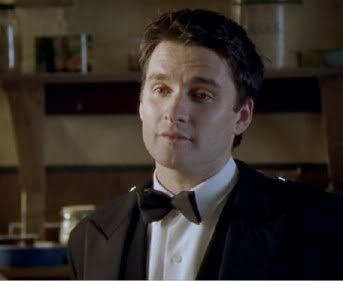 Lexie appears to be taken aback (though she may have had her suspicions) and says nothing
and Archie goes out to the Ball area.
A little while later (it must be) Lexie appears in the red ball gown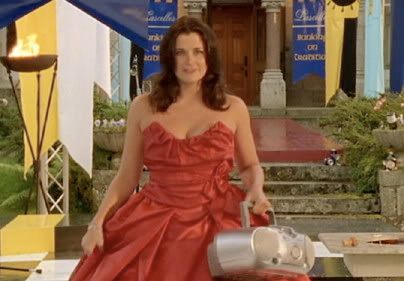 which everyone agrees does not flatter her! Something like this might have been better
We then see a great embrace
and the placing of the pop can tag on her finger as an engagement ring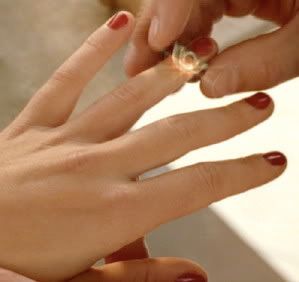 and they dance away in the distance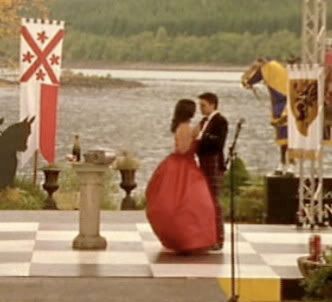 and so ends another "Glenbogle in Wonderland" episode!
PS I wonder if Stella took the job in South America that Toby offered her?
I said I would try to get it up a day early as some members are going away on holiday and might want to see and comment on the episode before leaving.