Post by mary ailean on Jul 17, 2008 6:32:53 GMT
The Morning of the Wedding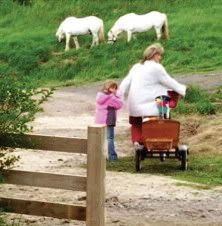 9. Molly and wee Martha in the garden...
Molly had been neglecting her garden, but not for the obvious reason. The wedding had nothing to do with its decline. Martha woke early, and Molly knew that a romp with her granddaughter, in the outdoors, after breakfast, would set the tone for the entire day. So that's where they were headed. One of the sterling pleasures of Molly's life had been the few times when she would accompany Martha on a discovery walk. 'Grandmama Molly' would pick flowers, and dead-head plants, while Martha skipped along beside her talking, on and on, about every little thing.
Martha had insisted on riding in the bike cart, using the circular path around the house, to the back of the property. "Please, please…I don't want to walk on the grass. I might step on one of the frogs," she cried. "Okay, Martha, we can ride, but at the gate, we'll leave the bike and cart, and walk. Besides the frogs are actually toads, honey, and they are brown. We can see them in the green grass," said Molly. "No, I can't see them. I don't want to hurt them," Martha repeated. "Okay, dear, here's what we'll do. We'll sing a toad song, when we get to the grass, and they'll hear us and get out of the way," she explained to the child, who agreed at last.
The toad singing kept Martha happy, and they left the bike and cart, entering through the big iron, arched gate.
The garden had been Molly's escape for years. Other than Lexie, no one else in the family cared about puttering around out there. It had become Molly's private domain, and a place to ruminate. Golly had been joining her lately, but they often worked, side by side, without talking at all. Golly did not find her silence to be a strain.
This morning Molly marveled at the paradox, that even with the babbling, her granddaughter was non-intrusive. What is it, she mused. Is it that Martha doesn't watch me, doesn't care what I'm doing at all? Yes, that's it. With a child everything is geared toward the natural world, without a concern for the urgent questions of the day.
Molly never had initiated a, 'let's discuss what's bothering you', talk while walking in her garden. The two, problem solving and plant admiration, didn't go together for her. She'd never talked so much as she had with Andrew during their months together. His incessant desire to communicate made her very tired. How very odd that she had moved so far away from her comfort zone to accommodate someone else. Molly was now over the humiliation she had suffered with Andrew, and she vowed not to let it make her cynical.
Walking along with Martha made all the petty annoyances of the week melt away. Being with children, and animals, was what Molly needed right now, she told herself. When she'd see something that needed attention she'd stop on their walk, and begin working there, just to have made a start. Martha was used to the little delays.
Glenbogle was a large property, and Molly always had a great deal of work to do. She thought it was an insult to her abilities to hire a gardener. Until lately she'd been able to keep up with it. Now the plants in the back were seriously overgrown, and the beds needed freshening. She would have to consider asking Golly to help her with more of the heavy lifting. More than anything she hated having to saw limbs from a ladder. Sometimes gardening was just slave labor, she thought. She often wondered how Golly could work outside every single day, even in the cold of winter.
Neither Molly's painting, nor her gardening, had the same draw for her since Hector died. Now, she could be alone anywhere, and she didn't have to retreat to the garden, or her bedroom den to work on her watercolours. She didn't have the desire to create, at all, right now. She hoped that this particular rite of passage for widows would be one that she'd soon get over. Molly, a formerly active woman, now seemed to live in the world of the mind. She didn't know how many more times she could go over the events of her former life.
The children were a relief from herself, and this constant living in the past. She bristled when people said that she needed to find out what she wanted to "do" with her life. Molly had recently made the brutal discovery that managing Hector, taking care of him, was what she did. She hadn't forgotten that he rather drove her 'nuts' semi-weekly, and that she had used any excuse to be off. That's when Geordie used to come in handy. She and Geordie were good friends, but when he insinuated more, she pulled back from him. Her time spent with Hector meant so much more.
She had gotten used to relying on Golly, and while he seemed to enjoy her company, he also encouraged her independence. And where WAS Golly this week! He was with Alison! Molly was annoyed by her reaction to Jessica's mother. She couldn't remember being seriously jealous of another individual in her entire life. Well, she'd just have to 'branch out' from Golly for a while. As hard as that might be to do.
She knew she'd enjoy seeing Geordie McCann this week. Molly wondered if he had any hot tips for her, and then she laughed at the thought that with so much going on with the wedding, she could even think of the Gee-gees!
( "Yes, Marti, you may pick it up" )
One of her friends told Molly that she had been beautiful at every age, although she said "Tosh" to any such comments. Kay hadn't seen her closely enough, Molly thought. Yet every man she'd ever loved returned that love. There hadn't been any rivals. This was why she had been stunned by the revelation of Hector's dalliance with Meghan. She thought Hector had been pining away for her return all that time. An even greater surprise, to Molly, was how deeply she would come to love Hector. She'd recently told Lexie that he was the only man to ever need her, not just want her on his arm.
Andrew might have destroyed Molly's confidence, but she turned out to be more resilient than she thought. And yet, Molly didn't want to get involved again too soon. After a great deal of reflection, she realized that besides a surprisingly strong physical attraction, right now the most alluring thing about Golly was that he didn't expect anything of her.
Molly knew that she hadn't been ready for their relationship to go any further that night at the McDougal Farm, and Golly understood that. He'd even wanted Edith to give them separate rooms, Molly remembered. He kept still, though, to humor Edith, so that she would let them buy Orleans, Molly's coveted horse.
She got up abruptly and brushed off her gardening apron. Alison is toying with Golly's affections, she told herself, but she felt powerless to do anything about it. It had been a mistake to tip her hand to Golly the other night after dinner. Why must I always bolt from the room when someone sees through me? Molly asked herself. Golly was now the best part of her life, and she wanted to keep their relationship just as it was.
(Here, Honey, let me do that for you. No, you'd better not taste that, Marti)
Molly could not remember a time since Hector's death when all of their lives were more unsettled. She had resumed the visits to Jamie's grave when she was unable to sleep. Molly wandered out there last night after Lexie, and Jess, went to bed. She thought she had given too much advice along with the girls framed needlework. She stewed a bit about this. It started out to be such a light-hearted evening, and she regretted allowing them to see her sadness on such an occasion. Molly once thought she knew the right time and place for giving advice.
She wondered today, as she had at the grave last night, whether Jamie would still be alive if he'd been a daughter. Surely he would be, but what good did that kind of thinking do?
They would have had Jamie's post wedding celebration at the house, with nothing held back. It might have been the event of the season. Molly knew that her London friends would have come up for it. Jamie would not have run away from his ceremonial place as Archie had.
She hadn't told another living soul that it was her firm belief the family's financial reversals would not have occurred had Jamie lived. Molly knew that Hector always believed this, as well. Hector would have been supremely happy and, under Jamie's management, Glenbogle would have eventually returned to something akin to its former golden days. Molly hadn't blamed Archie for the estate's decline, it was just a fact that Jamie held the key.
Molly's granddaughter brought her back to the present. "Sing me a song, Gramma!" she pressed. "Granny, granny in your gown, how will you ever go to town?" sung Molly. Martha picked up the tune and sung "to town" "to town" "to town," over and over.
Molly told Martha, "Look at the tiny bird who is looking at you." While watching a tiny chaffinch with the little one, Molly cut through the middle of a rose with the secateurs and the, formerly perfect, flower fell to the ground, ruined. "Bloody roses!" she exclaimed, and a shocked Martha said, "Gramma, I don't think you're supposed to say Bloody!" "You are so right, Marti, Thank you for reminding me!" Molly said with mock solemnity.
Molly wanted to be a freeing influence in Martha's life. She would show her granddaughter that one could go outside in her nightclothes, or be unself-conscious about her hair. She wanted Martha not to waste time worrying excessively about what others thought. Molly hoped that Martha would also learn, as she had, to go off alone to do her life's 'homework' this way. It had always been a blessing for Molly to be able to flee to her garden during those years, when she lived in the cauldron of the family.
Was that why Lizzie drank? Was it then that she would escape into herself? Was this what the year was all about? Did Archie and Lizzie do some critical thinking while making their escape? And it was an escape on Archie's part, for sure. He left Lexie and Paul saddled with his responsibilities. This had been an extremely hard year for Lexie, especially. Molly did not accept the notion that her children needed to try to find Hector. Hector was here.
"Martha, do you want to wear your red sun-dress today?" Molly asked. "No," Martha said, "I don't like red jam colored dresses." Molly laughed. "Well, maybe you would rather wear a pink ice cream colored one?" Molly loved talking nonsense to the child, but she also instructed Martha, as her own grandmother had been delighted to do with her. It was going to be important that Martha learn the names of the flowers and birds of the Highlands when she was older. She'd also teach Martha the names, and stories, of her near relatives, several generations back.
"Gramma, I have to wear my flower dress, today," Martha remarked. "What is that one, honey?" "My wedding dress!!" said the child. "Oh, your flower-girl dress!" said Molly. "That is today, sweetheart," her grandmother replied. "Do I get to stay up late for the big fire?" asked Martha. "Well, a little later, I think. You'll have to ask your mummy because she will be here then," hedged Molly. "Okay," said Martha. While the little girl darted in and out of the foxgloves, Molly thought, "What a beautiful creature." She wanted the moon for Martha. She knew that Lizzie did, as well.
Molly didn't know what to think of Lizzie's parenting style. She thought that her daughter possibly saw Martha as someone meant to bring her joy more than the other way around. She wondered if Lizzie would be able to parent more effectively now that she had returned from her quest. Molly did have to admit that Martha was a very happy little individual. Little Marti even seemed at peace with her mother gone these last few months.
Molly wondered if they would fare better than she, and Lizzie, had during the teen years. She thought a lot about Lizzie and Martha, but before she gave advice she thought even more carefully about doing that. She'd always had a good relationship with Archie, but it had been much harder with Lizzie. Like Hector, Liz was quick with her tongue, and Molly found that irritating.
Molly felt that one of her skills as a mother was in knowing that she must work through these shadowy feelings on her own. She guessed that mothers who yelled, and carried on, were doing this work with the child. She thought that they might not have made any mental preparation before hand. Well, she also knew that sometimes you just get tired.
When asked to accept the path Archie and Lizzie had chosen, she had been ready. This time, as before, Molly had thought it all out beforehand. She had been able to say, "Good for you, Lizzie" and, "Take all the time you need Archie," before her children left for Nepal.
Molly could be what her children needed because she'd done her preparation. She was doing her 'work' this morning. She hadn't seen her two adult children for many months, and she wanted a close, accepting, relationship with them. Molly felt that it was her failure not to have taught Hector how to come to a similar acceptance of Archie and Lizzie.
On the last day of Hector's life he had thought through his feelings about Archie's engagement, though. He had been able to change his way of thinking almost entirely. Others would say that it was too late at that point, because Hector and Archie didn't have the luxury of that last, healing, conversation. Molly knew, however, that it was never too late to learn from one's parents. In the end she thought Hector might be of more help to Archie than she ever could be.
Molly thought that by expecting their children to remain, at Glenbogle, Hector had contributed to their present unhappiness. It may have been right for him, but it hadn't always been right for her. When Molly came back from her 'runner', she was home for good. Her children did not see the Glen as the comforting place that she did. She thought that this was the reason Lizzie was constantly seeking something new, something untried. She was still running away from home. Archie was in danger of becoming the same way. Molly sometimes worried that Archie and Lizzie would spend their entire lives roaming about, and never make a home at all.
When she thought most clearly, though, she realized that her children, as yet, simply had not seen enough of the world to withdraw from it to an inherited castle. Molly came back for love. Surely Lexie's love had drawn Archie back. Molly began to think about Lexie as she picked spent buds off her lilies. Molly had seldom seen a love as strong as Lexie's. She hoped, with all of her being, that Lexie's heart would not be broken.
(Yes, it is pretty, Marti. Let's put it in your hair. Here…)
In Jamie, Hector and Molly could see the one who would have excelled at everything. If Molly were to rank them in their importance, the five of them, she would have put Jamie at the head of the list. He would have been the one to stay, and he would have enjoyed Glenbogle. He would have had the blessed toilets, and tub, that so annoy Archie fixed! He would have made life beautiful right there. Jamie would have been able to travel, but afterwards, find his home a haven.
Whenever she got to this point, in her thinking, Molly would say, "Jamie, Ohh, Jamie." That was the moment when she knew she'd gone too far. Molly would then abruptly leave, never having worked this out to its final conclusion. Today Molly let a new thought occur to her. Perhaps Jamie would have left eventually, too. Well, yes, of course, he might have. Maybe he would not have saved them and further...Molly was able to acknowledge that it was not their son Jamie's duty to make things right for future generations of MacDonalds. And now, as the surviving son, it was not Archie's either.
Martha wanted to put a bee in her 'bug box', and Molly advised against it with a short explanation. She told Martha that it would deter the bee from his duties.
Maybe Archie and Lexie had lifetime responsibilites that didn't include Glenbogle, Molly thought. Could the same be true of Lizzie? Could Glenbogle be their bug box, albeit a very large one!
Molly thought that it was time, for the two of them, to go back inside. The morning rain had made the dirt path a muddy mess, and so they left the bike and cart inside the gate. She held little Martha's hand and, as they made their way back to the house, Molly threw her head back, smelled the air, and felt the sun on her face. She looked for any remaining clouds on the horizon, but failing to see any, Molly exclaimed, "Oh, it's going to be a marvelous day, Martha, my dear, I'm sure of it!"
Molly formed a mental picture of the four MacDonald women posing for the wedding photographer in their clan tartans. Molly imagined them with identical endearing smiles on their faces. She turned to help Martha cross a puddle and slipped! Molly succeeded in pulling the little girl down into the mud along with her, and the two of them laughed uproariously. The little pratfall, created by her own clumsiness, cheered Molly. She knew that what she really needed to work on was being the clown in her own life. Hector had vacated the post.
"NO GHOSTS TODAY," Molly said to her Granddaughter. Martha looked up, saying, "We want ghosts, Gramma." "No Martha, we want bugs," Molly corrected. She took the wee one's wet nightgown off over her head, and then took Marti's muddy shoes off. She stuck these under the flowers in the flat basket carrier. "Can I walk in the mud?" asked Martha. "Sure, you might as well, now," Molly answered.
"Then we'll have a bath and get dressed for Mummy."
..........................................................................................................
*When we were in the garden area, on our trip in 2006, (staying for a week in the Gate Lodge) and just outside the arched gate, I took the picture of the toad...we saw several big ones hopping around there right in front of the 'Molly's' shed. This one was about 4 inches long. (Mary Ailean)

to be continued
the next installment will be:
10. A phone call from Irene Stuart