Post by mary ailean on Jul 18, 2008 6:38:08 GMT
The Morning of the Wedding
On this thread:
10 a. A phone call from Irene Stuart
10 b. Jessica on the a.m. of the Wedding
10 c. Duncan's letter to Jessica
………………………………………………………………………………………………..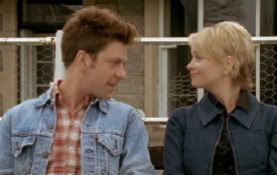 10 a. A PHONE CALL FROM IRENE STUART
The telephone rings many times in Glenbogle House.
Lexie:
(yelling) ISN'T ANYBODY GONNA GET THE PHONE?!!
(She answered the black telephone
under the stairs in the hall.)
Irene:
Is Duncan there?

Lexie:
Who's callin'?
Irene:
Irene Stuart
Lexie:
Oh, I thought I recognized your voice. Why are You calling?
Irene:
Lexie, If Duncan's there, put him on the phone, please.
Lexie:
Whoa lady! Excuse me!
It's the man's wedding day.
And I don't want you to ruin it!
Irene
: I'm not going to ruin anything, Lexie
I will take 1 minute of his time.
Lexie:
Well, he's not here, anyway!

Duncan:
Who's not here?
Lexie:
(holding her hand over the receiver to muffle her voice)
Duncan, It's Irene Stuart. (whispering)
I can get rid of her.
Duncan:
here, let me have it.
(he wrenches the phone from her hand)
Lexie:
Ow! Dun-caan! That hurt!
(She rolled her eyes and gave up the receiver)
Duncan:
Irene?

Irene:
Duncan?

Duncan:
Irene, is that you? How are you?
Did you have the baby? I mean...
h- how is the baby?
Irene:
Fine. We're all fine. Little Iain is just fine. He's teething right now but he's just doing great. Listen, Duncan. I won't keep you. I'm not in Scotland. We live in England, now. I found out about your wedding last week and sent a gift to you and Jessica...it's for your home.

Duncan:
Thanks, Irene! When we get back from our honeymoon...
We're driving and then ferrying to the Western Islands...then we're having an expensive decorator* redo the whole cottage with new furniture and...
Irene:
Duncan?
Duncan:
Yeeees.
Irene:
Duncan, Please listen carefully.
Duncan:
I am listening.
Irene:
Duncan, you are the single purest person I have ever known...but we wouldn't have worked out together. I don't think that you understood that. I know you made many plans, but I loved another person and…and was such a mess when you knew me. You never really knew me.
Duncan
: I thought a-did.

Irene:
Duncan, shhh....I meant it when I said that you were too good for me, Duncan. I should not have gotten involved with you while I was there. I was lonely and you were so very sweet. You were really too good for me.
Duncan:
Naah.

Irene
: I hope you are very happy.
I know you will be the best husband. Your fiancee is very lucky.
I hope you have children, Duncan.
Duncan, I know this is a lot to ask. I know you said that you didn't want to be friends. What you said exactly was that you already
had
friends. I knew that I hurt you, but when you said that, well, I knew that I hurt you, deeply. This wouldn't be too much, I think...but...but
Our return address will be on the package. Iain, the baby and I live in South Kensington. Please tell me when you have a baby. That will be important to me, Duncan. You don't have to write a thing. Just tell me the baby's name and… that's all. I want to be able to picture you. I want you to be a father. You will be such a good father, Duncan.
Iain is very good with the baby. He doesn't even mind changing nappies. Well, I'd better go. Will you do that, Duncan. Rip the address off the left hand corner of the package where I wrote it clearly and save it...send me a card...tell me...(sniffling)
Duncan:
Irene, I dinna know what to say...okaaay... a-will. We want them... Jess wants bairns...and I do, too.

Irene:
Also, please tell Golly hello for me, and the others. I wrote Molly a note but please tell her thanks, and that I enjoyed working there very much...
and please tell Lexie, that it's okay. Thank her for me. Mostly, have a very nice wedding. I wish I could be there but please know that I want the best for you. Just...ah...have a happy wedding....
Duncan:
a-will
Irene:
Goodbye, Duncan. I hope you have forgiven me.
Duncan:
a-have. Goodbye, Irene...ah, Irene, I'm sorry I said what I said to you when you left. It's good now. I'm good now. It's gonna be gre-at marrying Jess. We will be down at the loch, ya know, she's planned it all. All except my grandparent's boat ride and the arbor and the...
Irene: (interupting)
Duncan?
Duncan:
Yes?
Irene:
I'm so glad, Duncan. Talking to you has made me feel so much better. I'd better go now. Bye...
Duncan:
Bye, Irene.
After Duncan put the phone back on the cradle, he looked up at Lexie standing in front of him. She had listened to his side of the conversation. Lex reached out and grasped Duncan's right arm with both of her hands to comfort him, but he didn't move. He just stood there shaking his head slowly back and forth and the left corner of his mouth moved up into his characteristic little smirk.
Lexie:
Duncan, that was a good girl to kiss goodbye.

Duncan:
I know it. I was too good for her, he teased, rolling his head around, like a manic
comedian. As Lexie turned, he grabbed her ponytail and pulled it straight down, and hard!
Lexie
: OW! Are you determined to send me to the hospital today? I feel sorry for your WIFE!
(She threw a mock punch at his jaw)
Duncan grabbed Lexie by the wrist, she laughed, and the two walked down the hall, arm in arm.
Duncan:
Hey, Lex, I'm gonna get married today!
Lexie:
Mr. Important!

Duncan:
Yeh!
Lexie:
Like that time when you pretended to be the laird for your other girlfriend?
( she said this in a bratty manner, like a school-girl)
In mock anger, Duncan chased Lexie out of the front door, causing her to smack into Jessica, who was on her way inside.
The three grabbed hands, and circled, like children playing "ring-a-round-the-rosy".
Molly and Kilwillie walked up from the side yard, and seeing the three, they smiled and waved to them.
* The expensive decorator is Lady Dorothy's gift to the couple.
....................................................................................................
to be continued
the next installments will be:
Part b.. Jessica on the Morning of the Wedding.
Part c. Duncan's letter to Jessica