Post by mary ailean on Jul 20, 2008 7:19:30 GMT
12 a. UNDRESSING BEFORE THE WEDDING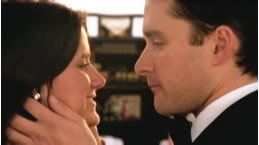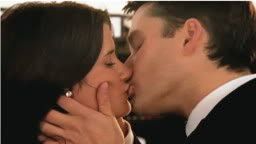 ARCHIE AND LEXIE, RE-UNITED AFTER NEPAL
Lexie came running in the side door of Glenbogle House, through the kitchen, and down the hall. She turned, and continued through the entryway, and went straight to the front door. The impetuous woman bumped into her startled mother-in-law, and asked breathlessly, "Canna borrow my wee man?"
"Yes, dear, I'll see you two later," laughed Molly.
Archie, who was standing next to his mother, grinned at her and said, "Back in a bit, Mother."
Lex pulled on her husband's arm until he was obliged to follow her.
Molly was very relieved to see that Lexie was accepting Katrina's presence in the house. How had this happened, she wondered, shaking her head. Molly had no idea that Harold Xavier was bringing his daughter, Archie's former girlfriend, with him to do his research.
Molly understood why Lexie wanted some privacy. Archie had been away for several months, and the separation had been hard on her.
Anything more, that she had to say to her son, would wait until after the wedding. Molly would apologize to Lexie, as soon as she could. She didn't know what else to do. "I hope the rest of the day isn't as mad-cap as the last few minutes," she muttered.
Katrina and Lizzie were outside on the front drive. The old girlfriends were making plans for the rest of the day. Katrina had talked Liz into trooping, through the brush, with her to her white-washed cottage.
Harold had gone back outside, on the porch, to find Katrina, and when he heard the new plan, he told the girls to go on ahead of him. Xavier said he was sure he could manage without Katrina. Although she felt a pang of guilt, Katrina was, at the same time, pleased. She knew that she would be very uncomfortable, in the house library, with Archie having just returned.
Harold handed the keys to Katrina, and told her he'd call her, when he needed the car, to drive to Maureen's cottage to get ready for the wedding. Liz told Katrina's father that she, and Martha, would bring his car back later.
Then turning to Katrina, she said, "I'll be only a minute, okay? Martha is just inside. I'll scoop her up, and then we can take off." Liz went inside with Harold, who glanced back at his daughter. He was slightly concerned, and acknowledged Katrina with a nod before closing the front door behind them.
Instead of waiting by the door, Katrina started walking slowly up the driveway to the end. This unfortunate timing had made her very uncomfortable.
On the way up the first of two main staircases, Archie made sure that Lexie knew what was going on. He said brightly, "Liz told Mother that Katrina is staying at Maureen's place, and they'll be over there for most of the day." He watched her face for any bad signs.
"Sure," said Lexie. "No problem."
('Okay, she won't be staying. Lizzie finally did something right,' thought Lexie.)
Lex, more eager than her clothing would allow, was making some headway on the stairs. She left Archie's side, and went on ahead, still leading him. Her red leather skirt was too tight, and it hindered her, but she was still able to walk faster than her husband.
Archie couldn't see very far ahead of him on the stairs, but he enjoyed what he'd already seen of Lexie's clinging red tank top, with the mere wisp of a white strap showing underneath. Lex was leading Archie, by the hand, but when they got to the very top of the stairs, there was a shift in their eagerness levels.
Archie stopped and turned toward his wife.
He slid both of his arms under her rounded derriere,
and brought her up so fast that she let out a fairly loud yell.
Her left hand immediately flew to her mouth.
"Ar-chie! Put me down!" she whispered.
Jessica heard something outside her door, and she opened it a crack to peek out. When she saw who was in the hallway she, waved hello to Archie, giggled, and then quickly closed the door.
Archie and Lexie laughed.
This slight pause did not hinder Archie. The Laird let Lexie's feet find the ground, and then he opened the first door he thought would be vacant. When he saw that the room was empty the returning hero turned to his eager wife, and brought back a line from their past, saying,
"Take a chance, Alexandra?"
Lexie had been smiling widely before, but she was suddenly serious. She said nothing while Archie opened the door with his right arm. By accident, he pushed the door too hard, and when it hit the paneling, inside the room, it made a loud bang.
This caused Jessica and her father, Murray, to laugh on the other side of the wall.
Unconcerned, Archie closed the door quietly, locked it behind them, and turned to face Lexie, who was standing, just to the right of the closed door.
He put his open left hand on her bare stomach, and pressed her back a few inches until she was up against the wall.
They kissed tenderly with open mouths, and then they each kissed the neck of the other. The wall was hard against Lexie's back, and when her head began to hurt, she whispered, "Not here, Archie."
"We'll talk later, Mrs. MacDonald."
"Okay, Arch, great, but let's just move this over there, and she steered him to the soft mattress edge.
Lexie gave Archie a wee push using both of her hands.
He had his dark gray, polo shirt over his head and off so fast that Lexie was again giggling. Feigning desperation, Archie said loudly, "Come here..."
Lexie raised her finger to her mouth, and motioned for Archie to be still. "Shhhh," she told him. And then, bending him back, and reaching for his jeans, she said,
"Here, let me do this, you're probably tired."
"I'm not tired, Lex," he said, breathing heavily.
"I'm not tired at all."
(You are to finish this scene as you envision it. That's all you're getting from me!)
Downstairs the group, seated around the kitchen table, decided to break it up. Pamela and Uncle Joe offered to do the dishes but Molly said, "Let's just pile them in the sink." "You're kidding, of course. They'll be here for days. There's too much going on," reminded Alison. "I'll clear," she added. They all pitched in to help her wash and dry the dishes. The four finished up, Molly turned out the lights, and they left the room to rejoin Lord Kilwillie and the others.
...........................................................................................................
to be continued:
<<<<<<<<<>>>>>>>>>><<<<<<<<<<>>>>>>>>>>>>>><<<<<<<<<<
I enjoyed these three posts that followed the original sharing of this chapter...
The first one is from a big 'Lexie' fan, a guy. The other two are from women.
I'll put them on again, but anonymously.
Mary Ailean McG
……………………………………………………………………………………………..
Re: A Wedding on the Loch
Reply
Mary, you are a 'divil.' You have given Archie the 'fire' and the 'passion' so many of us have longed to see him display in his personal interaction with our Lexie for so long now. So well done, Mary. I sure do envy that lad, don't ya know. Let me read that last part again. "Not here Archie," Whew!
………………………………………………………………………………………………
Re: A Wedding on the Loch
Reply
Why, Miss Mary, I do declare! I'm just sittin' heah on the veranda, sippin' my mornin' mint julep and readin' the latest installment of "A Wedding on the Loch" and you, my deah, have given me a case of the vapors! Where is mah fan?

(NO! It's NOT hot flashes!!!)
The imagination does run wild!!!
This is Too Good!!!!!!!
More....More...MORE!!
Have a great day!
……………………………………………………………………………………………
Re: A Wedding on the Loch
Reply
How lovely for Archie to finally show a little passion! Thank you for offering us the possibility that he eventually learned to express his feelings. I do hope that Alastair is warmer than his alter-ego.
……………………………………………………………………………………………
the next installment:
Mad house in the Big house
12. b. Dressing before the wedding-
everyone together in the big house