Post by mary ailean on Jul 23, 2008 0:30:26 GMT
13. DRESSING CONTINUED...TARTAN FOR ALL

In the kitchen, Glenbogle House...
Ewan pushed the kitchen door open, with his elbow, and with Ricky MacDonald's help, he piled 6-7 boxes on the kitchen worktable. Ewan had been introduced to the American MacDonalds, in town, several days before. When he told them it was his idea to buy Jess and Duncan some camping equipment for their honeymoon trip to the Western Islands*, Joe wanted to fund the expenditure.
Ewan, Rick and Joe, took the rental car and, along with Bonnie, they drove to a mountaineering outlet in Inverness. They were able to find, and purchase, the top of the line for every item on Ewan's list!
Duncan was poking around, in the refrigerator, but when he saw Ewan, and young Ricky, with the boxes, he closed the door and yelled, "Ohhh, hey, what's that?" Duncan had seen Ricky, in the village, but he didn't know what the Americans were up to on his behalf! "Your wedding, presents, of course," replied Ewan.
"Wow, great! Camping stuff! Thanks! I think Jess will let us take these on the trip-maybe use them one or two nights. We're planning on hotels for most of the time, though. Lexie has made some booking calls for us. Jess isn't too much for camping," said Duncan.
"Oh-oh, we got the wrong present," said Ewan, throwing up his hands. "No, No," said Duncan. "We'll also use them back here at Glenbogle, and maybe on the trip, too. Don't be crazy. I love this stuff!" "You'd better, it was expensive…You wouldn't believe how much this stuff cost," said Ewan, sarcastically.
Soon after, Lord Kilwillie entered the kitchen saying, "There you are, Ewan! Young man, I must drape your plaide now! Come into the library, right smart!" The two exited the kitchen, and made their way to the make shift dressing room that had been set up for the men in the library. When Ewan saw Golly, in full kilt, with the unusual leather jacket, he whistled! Golly ignored the compliment, but there was an obvious glint in his eye.
Golly watched Kilwillie tuck Ewan's tartan fabric, this way and that, and when the boy complained that the amount of cloth hanging down was cumber-some, he said to Kilwillie, "Here let me help. Ewan, I had to raise Duncan, now do I have to take you on?" Golly tugged at the arisaid's fabric, while Ewan laughed half-heartedly. He'd learned not to mess with Golly, and so he submitted to the ghillie's fussing, and grooming.
Kilwillie reminded Ewan of a historical fact he'd once heard. The Brodie clan descended from the ancient picts and, at one period of time, the tribes went into battle without wearing clothing at all. Angus said, while winking, "Why are we going to such trouble-you're a Brodie, and you don't need a wrap at all!"
Duncan had been watching, and he prodded Ewan with his sheathed sword. He interfered with Golly's folding, and Jess' Dad reeled around saying, "Duncan, save it!" Molly was passing through at that moment, and she ran the palm of her right hand all the way across Golly's back, as she walked by him. It was her way of saying, "lighten up". Golly took the hint, and quieted immediately. No one could put him in line like Molly.
Jolyon, and Geordie McCann, were in full kilt regalia. Geordie was wearing his ruffled, white shirt, the one he last wore to the Glenbogle ball. It was amazing that there wasn't a single tear in the fabric after such a night! Hector had tried to run Geordie through with one of the claymores that hung, on the wall, over the stairway! Having dressed early, Geordie and Uncle Joe, were back, in the kitchen, admiring the new camping equipment.
Ricky was loading the gear, back into its boxes, in the kitchen, when Paul entered. Already dressed, Paul had been sent on an errand. "Hello, Rick, Duncan told me that I'd find you in here. I'm supposed to bring you down, to the library, where some old friends are waiting to see you. I'm Paul Bowman, Archie's brother," Paul told Rick, reaching out to shake his hand. Paul then led young MacDonald down the hall to the library. Rick, as he was now called, was glowing as he, energetically, greeted each one.
The men, gathered in the library, were taken by surprise when they saw the happy, grinning lad. Those who'd met wee Ricky, during the American MacDonald's former visit, were astounded that the sulky, young fellow had turned into the young man before them. Rick seemed to have gained a great deal of personal poise, along with some height.
When Paul introduced Rick to Eric Morton, the boy's excitement to be back in Scotland, again, was obvious. "I just couldn't grasp what my Dad was talking about, until I learned more about this place. I mean....I could always see it's beauty," he added, realizing that he might have offended Eric.
Rick told them that, when they had returned to America, he and Joe had joined a Highland group in Atlanta. Each summer the father, and son, enjoyed working together, behind the scenes, at the annual Highland games in the city. Ricky told them that his admiration, for his Scottish heritage, had grown. He said that when he, and his family, arrived in Glenbogle, and Ewan asked him if he'd be his back-up man for Duncan, for the wedding, Rick was happy to say yes.
Rick told the group that his mother, Bonnie, was a little reluctant to come across for the wedding lest it again fuel Joe's ideas for laird ascendancy. Then laughing, he said, "Dad has it out of his system, so you won't have to check the swords tonight!" Molly was walking, with a heavy tray, behind a group of the men, and Rick turned, and took it from her hands, saying, "Oh, here, please mam, let me."
Piper Morton wore a customary full, dress kilt with Prince Charlie jacket, and gold buttons. He looked crisp in his clan's light blue and green Douglas tartan kilt, and celtic-styled shirt. As did most of the other men in the group, he wore a balmoral cap, and his own had a nice tilt to it.

(See several Balmoral caps in the picture below:)
After several admonishments from Golly, over the handling of the pipes, Eric relaxed a little. He knew that, as the father of the bride, Golly was bound to be nervous right before the wedding, and so he let it go.
It had taken a while for Eric to learn that Golly's intervention meant that he cared about you. If he did not respect a man, Golly would simply clam up. Golly Mackenzie thought that Eric Morton was one of the finest men he'd ever met. Golly told this to Eric's wife, Pamela, who, in turn, told Eric of the compliment. Eric knew that their friendship had grown, and he was glad to hear it! He really couldn't read Golly, but Eric knew that they were forming a genuine bond with one another. He only hoped that he would not let his new friend down with his piping that night.
Golly was pinning his badge of deer's grass, the Mackenzie emblem, on his lapel when Kilwillie exclaimed, "You look like a Mackenzie chieftain, my man!" Eric added, "That is one of the most handsome tartans I've ever seen." The olive green and gray Mackenzie 'weathered' tartan kilt made a fine outfit, along with the new brown leather jacket, that Golly and Jessica had picked together. The jacket fit impeccably, and he wore a tam that was a slightly darker shade of olive.
Golly's clan brooch was fastened to the right side of his cap front. He had placed the tam on his head, and taken it off, three times. Finally, Golly was satisfied that it was on right! He was certainly glad that he didn't have to play the pipes that night. He figured that he'd work up the energy for the sword dance eventually, though. Golly knew that at Ceilidh time, he'd be so relieved that the wedding was over, he'd want to dance!
The tartans in the wedding party
:
Alison:
MacRae-ancient
Golly:
Mackenzie-weathered


(to see Golly's tartan simply key in Mackenzie-weathered in the search window of the first site below-the tartan store)Jessica:
Mackenzie-old colours/ ancient
(Jess will wear her father's clan tartan until she is draped with Duncan's Mackay tartan)
Molly and Lexie:
MacDonald-dress

Archie:
MacDonald-Lord of the Isles, red modern

Duncan :
Mackay- blue, ancient
Auntie Liz :
Mackay- ancient
Ewan:
Brodie- Red, modern

Murray:
Murray of Atholl- muted

Eric and Pamela:
(Morton) Douglas Clan-ancient

TO SEE THESE TARTANS:
www.tartanstore.net/tartanfinder.html
www.tartanstore.net/?referrer=overtureus3
www.tartans.scotland.net/tartan_info.cfm@tartan_id=1726.htm
Lord Kilwillie:
the show has used a fictitious clan name for Laird Angus Kilwillie. You can see his tartan as shown on the show, though. It is seen in episode 1:6, 'the boat race'. In the beginning scene, seen before the credits, Kilwillie and Flora arrive on horseback to make the challenge. They are both wearing a gorgeous tartan that has russet red, and olive predominately.
~~~~~~~~~~~~~~~~~~~~~~~~~~~~~~~~~~~~~~~~~~~~~~~~~~~~~~~~~
Murray wanted to honor his mother, and he wore her clan's tartan, for the occasion. She insisted on naming him Murray, her father's family, and clan name, when he was born, and he wore the name proudly. His people on both sides were from the Highlands, but from his Dad on, they had lived to the south in England. It was with mixed emotions that Murray was there in Scotland, again.
He would not have wanted to miss Jessica's wedding, but for some odd reason he felt like 'a fish out of water' at Glenbogle. He'd become comfortable in the city and up here, Murray felt powerless, and ineffectual. Jessica was his true daughter, and though he knew Golly to be her natural father, he hadn't fully accepted that, as yet.
Murray found that he harbored no resentment toward this fine country ghillie, with his obvious attributes. Murray knew that Golly could give Jessica more, in the way of her own background, and heritage, and yet, he and Jess had years of friendship, real kinship, and he was confidant that she loved him.
Murray thought about Jessica, and the wedding, while sitting across from Golly. He tried not to think of Alison, and Golly, together, and since he couldn't quite imagine Alison, as a young girl, it wasn't a problem. She was as comfortable with modern city life as anyone he knew. He felt that their life was what Alison always said she wanted, and Murray was puzzled as to why she would leave right now for such a backwater place. He knew he'd better try again to make her understand that this increase, in the amount of his work away from home, was temporary.
Golly, and Murray, were aware of each other, but they hadn't been speaking for the last half hour. Every time Murray left the room, he would nod or smile, and he once patted Golly on the back. Golly didn't know what to make of the man. He'd observed that folks in the city seemed to constantly gauge each other.
In the Highlands, you knew a man, and trusted him, or you didn't. Golly liked what he saw of Murray, so far, but he couldn't imagine that he, and Alison, quite fit together. Murray seemed to live on the surface of things whereas Alison was deep, and thoughtful, Golly observed.
Murray reminded Golly of a shinty coach in town. The coach was awkward verbally, but he wanted to appear friendly, so he made large, sweeping, masculine gestures with his arms. Golly was amused when Murray swatted him on the back. Like himself, Jess might sit, or stand without moving, for a long time. If she didn't speak you knew that she was lost in her own thoughts. There was a tightness, to her movements, that Golly knew he had as well.
Yet this tightness did not involve the heart. The father and daughter both had engendered lifelong friendships. He observed that Murray was not comfortable with himself. Golly sensed something that divided Alison and Murray. It seemed to him that they had just met, and yet they had been married for over 20 years.
Golly wondered just how long Alison intended to stay in Glenbogle. She'd made Golly's last two weeks so warm, and comfortable, that lately, while alone, he had been revisited by an old pain from the past. The man, sitting across from him, had a claim on Ali, Golly knew that. What a strange relationship the three of them had. He guessed that both of them, Alison and Murray, loved Jessica as much as he did. We are Jess' strange family of three, Golly thought. Murray caught Golly's eye and winked.
Up in Jessica's room Alison was helping Liz to dress. Duncan's aunt was wearing a hostess skirt and white blouse, with a long tartan sash fastened at the waist. Pamela had on a short kilt and her tartan sash fastened in the same way at the waist.
www.alcaigpipebandsupplies.com/index.php?cmd=viewproduct&id=219
"Oh, Mom, it's gorgeous," said Jessica. Alison's hostess skirt in Dress MacRae, ( McRaith's clan and tartan ) with it's soft blues, black and violet heather, hung in gathers to her ankles. All of the women, including Jess, had the tailor measure their skirt lengths to the ankle. It was thought that they'd have trouble, on the sand, with anything longer.
Then Molly came up with the brilliant idea to make some kind of colorful 'flooring'. She, and Lexie, had ordered dozens of yards of cotton-polyester cloth in heather, blue, and green (Lexie had pushed for these colors). Several hours ago they were laid out in overlapping colored bands on the hard sand between the food tables and the arbor. Badger had found a way to weave the wide strips of cloth without having to lift the sandy backsides up again.
The City Council had okayed the use of picnic benches, from the two village parks, and these had been arranged, in double rows, facing the loch, and the stag-hung arbor. Before he left with Joe and Bonnie, Ewan, and his friends, put everything out exactly, as they were told, and Duncan checked the site, with Lexie. His actual reason to drive, to the beach, earlier was to check on Big Eric's mount on the arbor. Satisfied that all was well, the groom headed back to the Big house to grab a bite to eat.
Cloth over the sand or not, the women were going to wear their satin shoes. Jessica's were a gift from Molly and Lexie, and they were quite lovely. Jess had tried on her dress several times, but it was back off again. It was laying across Molly's bed now. All Jessica could think of was the hot bath she barely had time for. Her hair was done up under a scarf, and she'd decided that was the way it would stay, until Lexie arranged it.
The many boxes, and garments, lying around Jess' room made it impossible to walk between the full-length mirror, and the dresser. Molly made a sudden decision to move every box, barrette, and piece of clothing down to her suite of rooms. The men in the library heard laughter, in the upper halls, as the caravan of goods made its way, down the hall, to the new dressing area. To the downstairs people, it sounded like the five women were having a great time.
Archie was laying his new clothing out on the long table, like large paper doll pieces, while Duncan, and Kilwillie, were arguing about Duncan's decision not to wear kilt hose. "No Stockings! It's unheard of! It's not done with kilt," Lord Kilwillie said, "But it's your wedding!" he said, pouting.
At that moment, the laird made a decision to give up his attempts to make Duncan fall in line. Angus had been wonderful,all week, as the, Molly-appointed, authority on all wedding dress. Things were a little tense, with such a short amount of time to go, before they would all leave for the wedding site. Kilwillie came upon Archie, as yet undressed, and told him that he'd better get cracking! Archie had missed Kilwillie, and only laughed at his admonishment. "Kilwillie, I've done this a million times before, you'd better focus on Duncan!" he said, glancing around at the others, who were sharing in the joke.
Martha skipped into the room, looking for her Uncle. She was in a darling, short-skirted, tartan dress, and the wee girl was moving purposely. When Martha didn't find Archie, right away, she'd picked Gavin's camera up in its case, and started off with it.
The photographer came around the corner to find the child leaving with his main piece of equipment, and he and Murray tackled her at the same time. The child sent up a cry, and Archie came over to swoop her up. The two left the room, with Uncle Archie swinging his niece, joyfully, from side to side, her feet hanging down.
"Where's Lizzie?" Archie asked Ewan. "Archibald, You get dressed right now!" Ewan imitated Lord Kilwillie, with his hands on his hips. He went on, "You listen to my perfectly enunciated words!" Just as he finished, in strode Lord Kilwillie who gave Ewan a slit-eyed glare. The laird then turned his attention, from this wickedly correct parody, back to the groom's obvious need of him.
Duncan was wearing black brogues with silver buckles. It was one of Kilwillie's arguments that shoes, with such buckles, would be uncomfortable without socks. "What about the boat crossing?" Kilwillie asked. Duncan told him that he had a full change of clothing for the water. Duncan's belt matched the buckles, and since it had been a gift from Archie from his travels, he'd put it on to please his friend.
Duncan bent down to put his short knife, the sgian dubh,** in it's place, but he came up short. "Oh, I do have to wear the stockings! You were right," he told Lord Kilwillie, with a smirk. Molly and Kilwillie were standing next to each other, and their shoulders shook a bit, as they suppressed their laughter.
Duncan heard an ear-piercing whistle, and looked up! It came from Lexie, standing in the doorway, looking at him with pleasure.
"You're the bonniest, crispy, cod fillet, ma wee boy," ***
she coo'ed in a high pitched voice.
Duncan was wearing a white, linen, 16th century shirt from Kilwillie's tailor's store in London. The shirt was under a fine, short to the waist, jacket, with epaulets, and cuffs that peaked to a point on the topside. These were lined with small silver buttons.
Duncan sported a new Mackey great-kilt, with it's full wide arisaid over his jacket. Since he wore the 'Mackay-modern' tartan every day, Duncan chose the new 'Mackay-ancient' from a tailor's swatch.
The plaide, that Lord Kilwillie fanned out over his left shoulder, began at the waist, and was fastened first, by his belt, and then up, and over, to be pinned with the new silver brooch from Alison.
Underneath the brooch was his clan badge, the great bulrush flowers that looked like tiny red stars on short stalks. Duncan's black kid sporran was small, tailored, and tidy. It had a silver closure with celtic designs on it, and was held on by a silver, chained waistband.
Duncan opted out of carrying a strap-on round shield. Jess had found a picture of one that she thought was best for him. The shield would fasten on the backside of the scabbard strap. Jessica had written a thesis paper on Ancient Scottish Costumes and, even though the shield would have made Duncan's outfit complete, she accepted his decision to shed it.
The cloth, over the shoulder, was too bulky as placed by Kilwillie, and it required Molly's fine hand to make it lie flat. As Molly fussed over Duncan's folds, she pointed out the fact that there would be a night chill on the loch. She told Duncan that he might find his layered wool clothing to be a benefit.
Kilwillie handed Duncan the McKay banner that he planned to carry. "Oh, Donald did himself proud with your ensemble, Duncan, my boy," said the equally, stunning Kilwillie. Duncan's obligatory stockings were white, and they had green tassels, to match the tartan, at the cuff. The lad was ready to meet his bride looking like a regal, Scottish warrior from an earlier century.
Archie was still fumbling around with his MacDonald kilt, with its knife-edged pleats, and he joked to Duncan that Dunc really outdid him this time. Duncan teased that he wasn't used to Arch yet in a Jacobite shirt! "You aren't going to leave it open at the neck like that, are you, Archie?" "Yes, that's how Liam Neeson wore his in Rob Roy," said the Laird, winking.
AN ARISAID or FEILEADH-MOR
Such as the one Duncan is wearing (also Ewan, and Kilwillie)
To see how to wrap a feileadh-mor or great kilt go to:
www.lindaclifford.com/greatkiltwrap.html
As Jessica's attendants, Molly and Lexie, were outstanding in their matching, MacDonald clan, tartan dresses. The lush weave of white, heather and black with its touch of soft green was eye catching. The full, silk taffeta, skirts reached to the ankle, and a panel, of white tulle, showed on the left side, of the skirt, from waist to hem.
The folds of the fabric, when pulled up to reveal the tulle, gather at the waistband, and they were pinned up with gold brooches. They were the only women to have their shoulders exposed. The others had an arisaid tartan wrap over the shoulder each fastened with a pinned brooch.
Molly and Lexie's tartan gowns were strapless, but at the bodice top edge, near each arm, there was an uplift with a white cotton eyelet lace inset. An inch of the lace was tucked inside the low décolleté, and it stretched from side to side. The design of the bodice, was such that its descending line, made a woman's waistline appear very slender.
Pamela had been dressing since dinner. She hadn't worn tartan in years, and she had enjoyed dressing with the others. Pam certainly added to the party atmosphere in Jessica's dressing room. Lexie, and her Mom, were having a ball now that the real work was done.
Lex showed her mother how to drape her tartan scarf, and Pamela listened to her directions. Then to make her daughter laugh, Pam put on her stiletto heels, and hiked the kilt up at the waist until it was 5 inches too short. Then Pam grabbed a bunch of wilted flowers and, pretending to be a tarty bride, she walked provocatively.
This was the tension breaker that the "girls" needed, and Molly and Lexie, as well as Alison and Jess, laughed at Pam's clowning. "Mom, you wearin' those shoes down on the sand?" laughed Lexie. "You, betcha, I am," Pam replied. "Ach, well, you'll have them off in two hours, ana-way, like you always do!" Lexie countered.
To honor her husband Pamela was wearing Eric's Douglas tartan, and the two made a perfectly matched pair. Morton had been practicing, with Golly's pipes, for so long that Pamela was sure if she never again heard the instrument, it would be too soon. Lexie's Mom had pressed her skirt carefully before going downstairs, and she looked wonderful. Her own sash was caught up with a diamond brooch, a gift from Eric on their first anniversary.
The men were coming into the gold, brocade drawing room from the library, as Pamela appeared. She had been sent down to see how much time was left before the cars must leave for the loch. "Is Alice meeting us there?" Golly asked Kilwillie. "Yes, and she is quite dependable," said Lord Kilwillie. "Auntie Liz and Uncle Angus are going down together," added Duncan. "I thought Joe MacDonald would be up to the house tonight, but he, and Bonnie, told Rick to tell us they'd see us later," he added.
Archie came into the drawing room and announced, "It's time to leave, everyone." Archie looked around, and each one was accounted for with the exception of Molly, and Lexie, who stayed upstairs with Jessica.
Lizzie and Martha were going to go over with them, and they stayed in Jess' room as well. One by one they filed out, into the hall, and Lord Kilwillie, looking 'tres grand', was the last one to leave the large room.
"Who has the midge spray?" he inquired of those ahead of him in the line going out the door.
to be continued...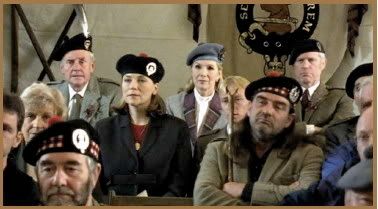 The Balmoral Cap Style is seen here on Hector, Molly, Bonnie, and the two men with their military versions. Golly is wearing a simple Tam O'Shanter. The difference as I see it is in the head circling band at the edge. (And I think the Balmoral is the most flattering Scottish hat, for men and women, both...followed closely by the Glen Garry for men.)
...........................................................................................................
* The couple will be in a castle for two nights, and then they will embark on a three week tour of the Western Islands off the Scottish mainland.
**Sgian dubh or "black knife". Usually worn on the right leg inside the knee sock with full kilt dress, the hilt exposed.
*** Lexie has called Duncan this term of endearment on the show.
(we will not see Jessica until the other guests see her during the wedding procession)
the next installment will be:
14. The Procession onto the Sand.