Post by mary ailean on Aug 2, 2008 7:41:58 GMT
The Ceilidh
23. A KILWILLIE CASTLE GHOST STORY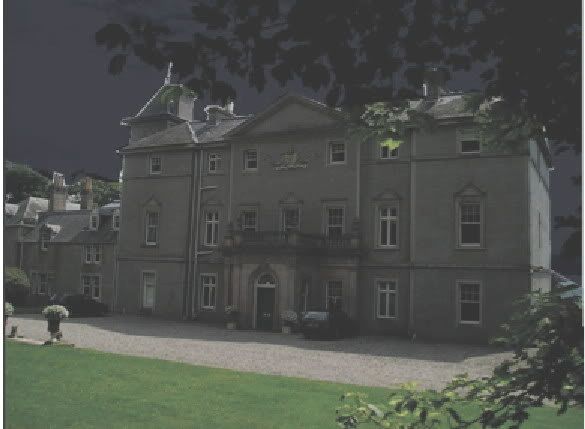 Dark Night... Kilwillie Castle
My boglie friends: I have enjoyed writing a ghost story for you as part of the larger 'a wedding on the loch' story. The episodic fiction is winding down to its end now, and will finish out in one more week. This installment is a long one!
We were vacationing, in Monterey, California, the January that I wrote this chapter. (Our eldest daughter lives there, with her family.) We'd rented a house, for the month, and I took this little 'project' with me. I wrote the story, propped up in bed, on several nights. My husband listened to it, as it was being written, and made comments. I had my laptop along, and was able to ask specific questions of Scotllass, in Edinburgh, and she was so very helpful. (Thanks, again, Karen!)
Please feel free to post anything at the end of the installments. The first post is the Table of Contents and you can check it to see the coming installments. The pictures to fit the chapters are going up as it progresses. Thanks for reading my loch story!
Love, Mary Ailean McG
<<<<<<<<<<<>>>>>>>>>>><<<<<<<<<>>>>>>>>>>><<<<<<
Kilwillie's ghost story...as told to Jessica MacKenzie
(before her wedding to Duncan McKay)
When I was a boy, Nanny asked my Father not to tell me the family ghost stories, but since I delighted in them, he continued. Father made me promise not to tell Nanny Bonnie, and especially not to tell Mother lest she tell the, bosomy, harridan.
One night he, and Bonnie, had a terrible row, after she walked in on our story time with father, and she left Father's employ. They disagreed over my 'over-protection', as Father called it. Nanny was treating me like a baby, he said, and he wouldn't have it. Our next nanny was more to his liking, but I missed my dear Bonnie. You've heard me speak of her before, Jessica. Jess nodded.
What Father didn't know about the new nanny, Helen, was that she was away, from the house, more than she was home. In my parent's absence we were very often left, quite alone while Helen was out, and about. The night that we encountered the ghost of my great uncle, our nanny was, again, away from Kilwillie Castle, and I was nervous.
I was thirteen years old, and my sister, the Lady Dorothy, though a few years younger, was old beyond her years. I did not consider myself to be the one, who should be caring for my younger sister, no, not at all. The worst thing, about being left in the castle, was that I was at the mercy of the rascally, Dorothy. She delighted in teasing me, and if I told on her she would make life more miserable for me. Well, you know her, Jessica, and you can imagine what I am saying. "I do know she can be formidable," said Jess.
I'd heard that the child, in my favorite ghost story, slept in the room I was meant to occupy one day. Father said that he had 'felt' a presence, in the room, but he'd not seen his, long dead, Uncle Rancell, or anyone else. Father was not afraid of ghosts. As a matter of fact, when my Father was young he, and his brothers, and sister, called their ghost, 'Rancid Rancell'. His confidence carried over to me, and I was amused by the story. I heard Father tell, each set of guests, on tours of the castle, that a young man haunted the boy's bedroom. My father, and his father before him, had occupied the large room, with its view, to the back of the property.
My parents decided that I was too frail, of constitution, to abide in the boy's bedroom. They thought that I might be frightened, and other arrangements were made. When I was too old, for the nursery, I was moved, not to the elder boy's room, as my place in the family should have warranted, but to my Auntie Anne's much smaller room.
Dorothy was given the larger boy's room, and she gloated over her acquisition. "There's no ghost, past, present or future, you little cry baby," she'd said. I've got this room now, and I'm keeping it!" And keep it she did. I never saw Rance's visage, but I do think that Dorothy did one frightening night, long ago.
First, let me tell you Rancell's story, Jessica. Jess settled back for, what she thought would be, an enjoyable tale. Kilwillie's family story did entertain her, but in an un-nerving way. What Angus Kilwillie shared wasn't what she thought it would be at all.
As he told it...
The lad was the youngest of the four Kilwillie sons. This intelligent, young fellow was the object of considerable ridicule. He was frail, and timid, with a white complexion that made him seem as if there was no blood coursing through his veins, at all. Rance had asthma, and the chronic, disorder was misunderstood at that time. Rather than play with his rowdy, brothers, Rancell spent his free time pouring over his father William's math, and science, books.
Rance was the pet, of his Mother, an intellectual woman who, though she was from a privileged family, was denied an education. Lydia was well read, and she knew that she could give her son a good start at home. She felt he'd excel beyond their dreams one day at school, but Lydia insisted, at that time, that she could help Rancell control his asthma only if he remained, with her, at the castle. One by one, his brothers departed for boarding school until Rance was the only son left at home.
Each day Rancell would take up a place, in the library, after having breakfast in his mother's room. The kitchen, where the other boys had eaten with their nanny, was deemed too cold in the morning for the boy. Since Rance was now Lydia's only duty, the Kilwillies let the children's longtime nanny go on to other employment. Rance's Mother did not find it a hardship to make his oatmeal each morning. Uncle William was often out, in the fields, to hunt before the household was stirring. He dined alone on his favorite scones, or oatcakes, and tea, before leaving the manse.
After Lydia was dressed she would bring a large tray, with tea and oats, in her Mother's blue china, to the bedroom fireside. Her young son would join her, and they would have a convivial time together. Often Lydia's little, West Highland white, terrier was allowed to stay with them, if he would go to sleep, by the fire. On the occasional morning, when the dog was unsettled, he was put outside. Lydia would say that the pup was "too unorganized" for study. The sight of his cozy, little, Mother with her arm dangling down, to stroke the wee dog, was soothing to Rancell. He always urged her to allow the dog to stay with them.
On cold, winter, mornings the two would abandon their library corner to stay by the fire, in the bedroom, for their study. Lydia would read, alongside her son, as he poured over the books that she had selected. She encouraged Rance to read alone, one lesson a day, and then to recite his findings, to her, the next. Lydia would sit in rapt attention, as her son spoke with ease, but when his bombastic father came in, Rance would fall silent. The males, in the family, thought he was slow because Rance rarely spoke to them. What they hadn't known was that, underneath his quiet exterior, Rance had an intelligent, curious, and fertile mind.
The day, of my biggest terror, began simply. Nanny Helen was to do some laundry, and get our breakfast, while we played. Errol, my father, was going on an overnight, to the Old Prestwick Golf Course, south of Glasgow, on the coast. He planned to motor, a bit out of his way, to drop my Mother at her friends, the Hamiltons, for a family wedding. Father would motor south to Pitlochry, unload Mother, and then head back in a southwesterly direction to the course.
Mother, and Father, had reached a comfortable agreement. They would see their friends, separately, when those friends were incompatible. Father dearly loved his golf, and though the drive to Pitlochry, and on over to Prestwick, in the Daimler, would take them a long time he left cheerfully, and enjoyed the drive.
My Mother, Beth, planned to attend the Hamilton family wedding, and would stay on, for several more days. She, and father, would return home separately. They bade us goodbye, and told our new Nanny that they had agreed to Serena Henderson's visit.
"Dorothy," they reminded Nanny Helen, "is not as resourceful as Angus, at amusing herself, and the visit will do her good." Nanny Helen didn't really like the added burden, but she kept still. Mother always left with a lot of fanfare, and I remember that she got out of the car several times, to come back, for things she had forgotten. When I last saw her she was holding her large hat on with both hands. Father was rushing her, and she hadn't yet taken time to tie the bow under her chin.
Soon after dinner, Nanny went into the village, presumably on a mission to purchase a bottle of cough syrup for me, and Dorothy began to tease me by turning out all of the lights on the lower level of the castle. I put up a bold front. This was, after all, my baby sister. With Dorothy if you let on, that you were afraid, she'd redouble her efforts. After Serena arrived, the two were busy upstairs and they let me play, with my soldiers on the floor, by the salon fireplace, without interference.
On one occasion, two of my men had turned up missing. I later found them, in the attic, and that was quite annoying. Dorothy, and I, didn't play well together, and that was that. I was forever fleeing her mischievous games. They usually had to do with my humiliation. The girls were being fairly quiet, for them, and with Helen gone that evening, I was having a pleasant time.
Its one of the reasons she's the devil to me now, Kilwillie told Jessica. I do try to understand my sister, but I have always hated her way of taunting me. "If this Rancell was so smart," she had said to me, "then why did he get thrown out of school, huh, Angus Sha-ron? Huh? Huh?" I felt sorry for the boy in my family history lesson. His Father, my Uncle Will, thought that Rance needed to go away to boarding school, to better grow up, and for the best educational opportunity. Whenever the subject came up, however, Aunt Lydia reacted very badly.
William was finally able to prevail, for Lydia did have an equal desire, for Rance's independence. The couple struck a deal. If Uncle William would drive Aunt Lydia over to Aberdeen Academy, twice a month, to take Rance his favorite foods, and other comforts, she would agree to the fine private school. True to his word, Uncle Will would, regularly, take Lydia north to Inverness, then east along the Moray Firth coastline to Peterhead, then south from Peterhead to Aberdeen.
Sometimes, they would vary the drive, for their enjoyment, by going south to Perth, then east to Dundee, and finally north to Aberdeen. The later route took longer than the usual 2-3 hours. For each school vacation Rance traveled home to Kilwillie Castle, and within 24 hours he would be begging his parents not to be returned to boarding school.
Father said that Rancell had trouble, with the other children, at Aberdeen Academy, from the very beginning. They'd tease him, and sometimes call after him, "little sick boy-you're not so smart!" One day he could take it no longer, and Rancell began throwing rocks at his tormenters. Rance was taken, by an angry professor, through the main senior building by the scruff, of his neck, and he was pushed out the front door. My Uncle was an Aberdeen benefactor so his son was not expelled. He was, however, asked to go on temporary leave pending an investigation of the schoolyard incident.
Rancell died, in a very strange manner, while down in the library at Kilwillie Castle, several days after he left Aberdeen Academy, and Lydia never saw the light of day again, it's told. "What happened to Rance, Father?" I asked, when I was deemed old enough for the complete story. I listened, wide-eyed, afraid of what I would hear next. Father told me that Rancell found a secret door, that was opened, by sliding a book out of his bedroom bookshelf. Behind the book was a wooden lever to pull. The door led to a passageway that ended up in the library. After Rance's death Father told me that the bookshelf was taken out, and the passageway was sealed.
On the night, of his death, my Uncle's parents said goodnight to him, as usual, and went to bed. There were strict rules about his bedtime, but since Rancell wanted to read his books longer than 'lamps out' he engaged in some subterfuge. My Uncle William instructed his wife to do a bed check, each night at 10:00 p.m., to see that Rance was there with the lamp blown out. Lydia did not tell William that she often caught the boy down in the library. Lydia told her son that his respiratory system was fragile, and that he shouldn't be walking the drafty house at all hours of the night. Rance soon learned to wait, until after his Mother's 10:00 visit, to use the passageway if he wanted to retrieve a book. Rancell was able to end up, back in his room, without having to pass anyone in the halls. He would then lean in, close, to read by the fire.
At this point, in the story, Jess wondered about secret passageways in Glenbogle House. I've never heard the family mention any, Lord Kilwillie said. That, of course, doesn't mean that one doesn't exist. When Hector, and I, ran all about trying to hide the 'Lagganmore Peculiar' I rather thought I got lost once because a door closed behind me. At that time, I passed it off as my imagination. I can't reconstruct it now, but I think I did see a, strange, passageway. It was dark and I took the way, that I thought, I knew. But instead of coming out, on the intended stairway, I ended up looking, out of a window, in one of the round angle towers. Hector came up, behind me, saying, "What are you doing in here?" He led me out as I was shaking my head. Yes, Jessica, there are some mysteries in the walls of that old pile, for sure.
Kilwillie returned to his tale. The story, Jessica, is that Rancell was taking a book from a high shelf, one late night, when the unattached ladder slipped, and the boy fell. His head hit a marble bust, on the way down, and when they found him, in the morning, he was unconscious, but still breathing. Great Uncle Rance died later, of an asthmatic attack, and not from his head injuries. There were stories of ghostly occurrences after this time. Father Errol told me, that I shouldn't take the stories, as factual since, he definitely did not. "Tales have a way of getting bigger, as they are passed down," he told me. "I hate to think of how embellished Rance's tale will become when Dorothy tells it to her children," laughed Father.
Mother, and Father, told me that the reason the library lights went on, and off, is that they were often not turned on at the right switch-plate. The wiring in Kilwillie Castle is patchwork, at best. Every 50 years, or so, someone will decide it is antiquated, and they will throw a bundle of money into the wiring. As castles go, it isn't so awfully big, but it is old and drafty, especially in the bedroom halls. The modernization, my parents did, mainly improved the great hall, which serves as the ballroom, and the downstairs kitchen and baths. Father didn't attend to anything he didn't have to, on the home front, but, ha! the man did play an excellent game of golf! He didn't get along with the servants so we couldn't keep anyone on, and the castle suffered as a result.
In those days the lights might go off 10 times, in a row, but we were used to that. Of course, I thought it could be a ghost, but if so, it was a pretty harmless one. Until that one night, I was sure we would not have a, frightening, apparition while I lived in the castle. The story, of Rancell Kilwillie, was one that Dorothy used against me. I do feel, now, that Rance came back, the one time, during my childhood to make his presence known. Ever after, if my sister wanted to get a rise out of me, she would revisit the haunting by the, nighttime roaming, sickly, boy. I was not to do, any number of things, Dorothy said, or Rance would return as before.
On the night, we speak of, Nanny didn't arrive back, at our bedtime. Since the girls had gone off I made myself a snack of cheese, and nibbles, and went up to my room. I went to sleep, but awoke later, not knowing what time it was. All I knew was that Dorothy was standing, over me, shaking me awake, while Serena stood giggling.
"Get, up, Sharon!" Dorothy persisted in calling me the one name, of my four, that I hated. "Wee Rance's ghost is here!" she said in her creepy, little, voice. "What?" I said. "He's here!" Dorothy repeated. "Where's Helen?" I asked. "In town, Sharon, there's no one to protect you...tee hee...tee hee," said Dorothy. Both girls were laughing. "Come down with us to the library," Serena implored.
I summoned the courage, to follow their lead, and heard Dorothy tell Serena the story our Father had told us. She told her friend that what was happening was exactly as Father had described it. The large bedroom, with the stone fireplace, was always where the footsteps were heard. The girls were braver than I was and, when Dorothy told me what happened next, I was amazed.
"The door opened, and the fire, in the fireplace, went out. Then we both heard footsteps move across the room!" she said. They told me that these sounded like they were made with leather shoes, and the sound was very loud! Then the steps moved back, across the floor, and out the door. "Where did they go, then?" I asked. "We don't know," Serena said, "We came in here, you nit!"
"Come on," said Dorothy, "let's go downstairs." I had no fireplace, in my small bedroom, and thus, no poker, but I grabbed the nearest weapon that I could find. One of Errol's swords, up high on the wall, was glistening, and I hesitated only for a second or two. Surely, I reasoned, Father would think that this was the time for his sword. I could tell him that I had to protect the girls.
I grabbed the, heavy, weapon, from the rack that it hung on, and the rack came down, too! "Bollocks!" I shouted, and pushed it, over, to the side. There would be hell to pay, for my negligence, but I would deal with that later. The girls left their slippers, so they could walk silently, and I did the same. Dorothy was anxious, to get to the library, and she motioned to Serena, to follow her, when they got to the bottom of the stairs. Rather than appear the 'nanny's boy' weakling, I followed holding Father's sword, awkwardly, at my side.
When I caught up to the little girls, I took up a position behind them. Now, I have only told the next part to one other person, my Father, who told me what he believed to be true. We needed to leave Rance, to his rest, and not keep discussing the details of that night. I was especially not to tell mother, who had a weak heart. Father said that he would tell her in his own way. This I could understand and I never spoke, of that night, to my mother.
Father knew that the cleverest nanny, they had ever employed, would be fired, on the spot, if Mother found out that she was away from the house, after our bedtime, leaving us alone. Helen, Father said, simply had a moment's indiscretion, and she promised not to do it again. He was prepared to forgive her wilder side. As far as I know, our Mother did not learn of this night, of terror, and Father and I did not speak, of the castle ghost, after that night. We tried to put Rancel to rest.
Well, Rancell is not at rest. Rance has returned, to haunt us, now that Dorothy is in residence again, but I digress. That night we made our way down, to the library, in the dark. I jammed my toe and, when I yelled out, Dorothy rapped me on the arm so hard that I dropped the sword. She picked it up, and continued on. I lost my nerve, and how I got down to the main hall and, into the library, I do not know. My heart was beating so hard that I thought I might die, then and there. Dorothy, and Serena, eager to come upon something, anything, led the way. Dorothy pulled the, perfectly weighted, door open, and as it swung wide, I saw the first of many, empty, shelves. Those, fine mahogany, shelves were completely empty!
The, several hundred, volumes were on the floor. There were stacked piles with, exactly, 30 books in each one. They stood, as sentinels, around the room with passageways between them. It was a diabolical sight to a child. The possible presence, of someone else in that room, was horrifying to me. There was not one adult, in the mansion, not one.
I knew that Nanny Helen had to go, by the library, on her way out. She would have seen anything, out of place, as she left. Even though Nanny must have gone, somewhere else, after her stop at the village pharmacy, this job had to take, much longer than her time away. Taking the books down, from the shelves, alone would have taken one 'person' many hours to achieve, and I saw Nanny right before she left.
Of course, Dorothy, and Serena, were excited; they were hopping all over the place. Dorothy told us that she saw Rance's face, in the corner of the library, when she first came into the room. "He was white, and his eyes were red. He was behind those stacks over there," she said, pointing. I told her that, if she did see someone, she would be frightened, and she wasn't! Serena was blasé, too, which was a great mystery to me. I was scared to death, and couldn't hide it. Serena went home, the next morning, sworn to secrecy. I didn't think Nanny needed Serena's parents coming down on her, too.
When Nanny Helen returned she was calm, though pale, as she called our Father. She then called the village police inspector, who came immediately. The constable did not have an explanation, for any of it, but we knew it was Uncle Rance.
Father talked to the constable, on the telephone, and said that he would return in the morning after breakfast. He said that we were to stay, together, and we were not to move a thing. Helen was so irritated, that father would not drop everything, and journey home, that she quit us the following week.
"I will not work, in a home, where the children are left, on their own, so often," she said. This was rich, coming from our night time disappearing nanny, and Father knew that he had misjudged her. I was not privy to what he told our Mother, but by the time she returned, from her visit to the Hamilton household, every last book had been put back in place.
Every book, in the large library, on the floor in perfect stacks!
I mean rea-lly! Of course, this had been the work of Rancell, the ghost of Kilwillie Castle, Jessica, he said. I didn't go back, into the castle library, for more than 5 to 10 minutes, until I was 21 years old. Dorothy sleeps alone, in Kilwillie castle, when I am traveling. My brave sister reports that, when she's home, she hears walking in the hall, but all the fires stay lit, and the volumes downstairs stay on the shelves.
Now, what do you think, Jessica, will this accommodate, itself, to your bonfire ceilidh? asked Kilwillie. "Oh, yes, Lord Kilwillie, our guests will love your ghost story, but did the events, with your Uncle, really happen as you've said?" Jessica asked. Oh, yes, they did. It's a good thing Dorothy is not here, he told her, or I shan't be telling it at all. There is no way that I would not run afoul of my, baby sister with a public recounting of this story, that's for sure, Kilwillie said.
I shall tell it now to quell the rumors that have been around, for so many years. Since I believe it to be a true ghost story, it will be a good addition to the, nighttime, mood of the loch fireside. "I'm glad that I heard it all now because Duncan, and I, may leave before the end, of the ceilidh, and I wouldn't have wanted to miss it," Jess told him. "Archie said that he'd film your presentations, though," she added. Well, I certainly hope the film is kept under wraps, I wouldn't want baby sister to get herself in a snit over it.
"Umm hmm, Lord Kilwillie, I feel so sorry for the boy. Did his, unhappy, life itself haunt you?" Yes, Jessica, I must say that it has. For that reason, around ten years ago, I endowed a new wing, in the Royal Aberdeen Children's hospital, in memory of Rancell Kilwillie.
"Tell me, don't you think that your Nanny Helen could have taken the books down to scare you children?" Jessica pressed. Why would she have done that? Angus asked. No, in fact, Jessica, Uncle Rance was our protector. I am convinced that he took the books, off the shelves, so that none of the children, in the house, would ever again be in danger of a head injury.
There haven't been any children, in residence, since Dorothy and me, and he has been altogether absent until recently. It is odd, but Hermione, who was raised away from the castle, is talking about marriage and children. She has recently said that she would like to take up residence here, to raise her children, and perhaps Rance is restless again.
"Well, it makes a very good story, Lord Kilwillie! Thank you for telling it ahead of time," said Jessica.
to be continued
( Thanks go to my Aberdeen School Technical Advisor, Scotlass!!
Also thanks for the one curse-word spelling! )
Next:
24. A Shivaree-Duncan and Jessica leave for their cottage.