Post by mary ailean on Aug 10, 2008 7:19:05 GMT
29. FINAL CONVERSATIONS
A. Molly and Sean
B. Archie's 4 Conversations
A. MOLLY AND SEAN, A TELEPHONE AGREEMENT
Earlier, in our story, we learned that Duncan's criminal cousin, Michael McKay, may have stolen Sean Connery's sgian dubh out of his stocking. (see Chapter 4.wedding jitters) Sir Connery was a younger man, then, and he was attending a 2-day wake in Edinburgh. He was asleep when his Grandfather's dagger was taken from him. It was taken right out, of his stocking, while his feet were up. Sean has been making enquiries, about Michael McKay, on trips to Scotland. The knife means a great deal to him, and he'd like to have it back.
Molly: Sir Sean Connery, please.
Molly stood in the hall twirling the phone cord, around and around, as she waited. Auntie Liz stood next to her.
She is leaning up close to Molly trying to hear Sean's voice.
Woman: I'll get him. Whom shall I say is ringing?
Molly: Molly MacDonald.
Sean: Yes, my dear, Is this Molly from Edinburgh?
Molly: No, no, this is Molly from Glenbogle.
Sean: Hmmm? Where?
Molly: Sir Connery...
Sean: Sean is fine.
Molly: Sir Sean?
Sean: Just Sean.
Molly: Okay, sir.
Do you possibly remember that you said you'd come
up for our next clan gathering?
Sean: Oh, yes, I do.
Molly: Well, there isn't going to be one...
Sean: Why, then, have you called me, Mrs. MacDonald?
Molly: Molly is fine.
Sean: Molly.
Molly: Well, you see in 6 months time we hope to break ground up here, in the village...
Ummm, there will be a mall open up…a very nice one. A lovely, picturesque shopping extravaganza-with restaurants, and furniture shops, and candy stores, an art gallery...you see?
Sean: A shopping mall? Like in the States?
Molly: Yes, well, no...
Yes, a mall…
No, not like in the States.
Sean: And you'd like me to come up?
Molly: Your knife sir-your stolen knife from the night at the wake-have you found it?
Sean: No, Molly, have you heard something?
Molly: Your father's was it?
Sean: And his father's as well.
You have heard about it.
Molly: Umm, pity. Thingie about the cousin of
Duncan McKay, right?
Sean: Yes, I hear he's in prison still.
Molly: Well, he's not stealing.
Sean: But he did steal! My sgian dubh, right out of my stocking, as I slept.
Molly: Sir, I'll get that knife for you
if it's the last thing I do.
Sean: How so?
Molly: Because his cousin, Elizabeth, is standing right in front of me, holding it.
Sean: The one? Mine? There is an Emerald in the handle…
Is there an Emerald?
Molly: There is an Emerald. Michael McKay has died, Sir Connery. It was in his effects box given to the family. They just hadn't bothered to open the box. The family put it away, and no one knew where it was until my friend, a McKay...her name is Liz, found it, Sir.
Sean: Sean.
Molly: Oh, let's not go through that again, Sir!
They didn't know it was stolen…He was mostly into cattle rustling.
Sean: You've got your ribbon cutter.
Molly: You'll wait to see the blade?
Sean: Oh, yes, I trust you, dear lady.
Put it in the castle safe.
Molly: Thank you, Sean.
Sean: Sir Sean.
(they both laugh...
and Liz polishes the sgian dubh on her apron)
..............................................................................................................
B. ARCHIE'S FOUR CONVERSATIONS
1. Archie and Lexie
Lexie, and Archie, are stretched out on the floor of the library with the papers and their coffee.
Lexie: After we pick up Dunc, and Jess, at the station, I want to change.
Archie: Can't you change now?
Lexie: Not enough time.
Archie: Alexandra, it isn't formal…its just lunch with Kilwillie. Marjorie is only cooking for the three of us. Kilwillie has gifts, and he wants to give them to us. It's not a big deal.
Lexie: All the same. (she turned the pages of the variety section without looking up)
When does Dorothy get back from America?
Archie: Anytime I guess.
Lexie: Think she'll annoy the heck out of us with her shop?
Archie: Yes, but we'll have too much going on to mind very much.
(he pushed the papers, out of the way, and took the coffee cup out of her hand)
Archie: Are you happy?
Lexie: Well, yah, give me that!
Archie: Are you?
Lexie: Only I don't know what I'll do with m'self if we leave here.
Archie: Well, not to hint at,
"the little woman in her apron",
but do you think you could manage the house plans?
Lexie: Yes, but why go yet?
The builder told me it could take a year.
Archie: I have to get out from under all this, and the sooner I make the break the better...the sooner Paul will have confidance in himself. We can rent a year.
Lexie: I guess we can, Arch. But Paul is just fine, ya know.
Archie: You'll be busy overseeing the shop developments, at the mall, and building a house.
I wonder you'll have time to sleep.
Lexie: Archie, you don't have to convince me. I told you that if you'd get yourself back here,
and stay in Scotland with me, we'd do anything you want!
Archie: Well, for starters, I want us to be on our own.
Not with Paul - Not with Mother. And I want to work! Actually work.
Lexie: That's rebellion for an nob!
Archie: Ha! Well, I never bought into all that. And anyway, this nob needs money.
I had the right idea with the restaurant in London.
(Lexie rolled her eyes)
I mean - It's what I do best. I told you that when I was in the mountains, I did a lot of thinking. I thought, we could do all this and, I'd be the laird. I thought we'd run the house from down in town. Now, I see that, with Paul, I can bow out of all those headaches entirely.
Lexie: They'll be his headaches.
Archie: Umm…yeeees.
Lexie: Well, we may have some headaches of our own.
Archie: I know...but...
Lexie: Oh, Arch...
Archie: All I could think of was running a business with you. Now with Joe's backing we won't have to worry about it succeeding. I don't see how the restaurant can fail. It will be right at the opening of the mall…
the only mall for miles, Lexie.
Lexie: The ex-King, Well, you've made my dream come true. I guess it's time to work on yours.
Archie: Oh, and I have more to tell you.
Lex, Katrina and Maureen want to develop, a private school, here in Glenbogle. Since Harold is going to open up the genealogy office in the mall, she'd like to stay on here. I think it's a good idea. I've only heard this from Lizzie. Katrina and her Dad have really become close.
Lexie: Ummm, that's nice.
Archie: Do I sense a note of sarcasm?
You okay with her back here?
Lexie: Yes, I am, ya nutter.
It's what's best for the school kids, right?
(They both laughed-Lexie stood up and pulled
Archie to his feet)
Lexie: Oh, besides-Fergal's back. (she winked)
Archie: Great! Where'd you see him?
Lexie: I didn't. I just heard it in the village.
And I heard he's stayin'.
Archie: Well, that is just so great!
Lexie: Let's get Jess, and Duncan, at the station-
then we'll talk about where in the heck we're gonna live, and I'll get ready.
(she grabbed her sweater, and they headed for the door)
Lexie: It feels like we are starting all over again.
Archie: Yah, for the 3rd time.
Lexie: No, Arch, for the, very, first time.
(He pulled the door closed, behind them, and smiled)
........................................................................................................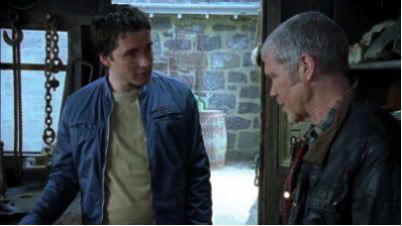 2. Archie and Golly-later that month
Archie walked by the shed and poked his head in.
Golly is working at something while standing in front of the workbench.
Archie: Golly?
Golly: Archie, come on in.
Archie: Where'd you have dinner?
Golly: With Duncan, and Jess, at
their cottage. Alison is up.
Archie: Umm.
Golly: She, and Murray, are moving up, and will look for a house...somewhere near here...maybe Inverness.
Archie: She knows our plans-I mean your plans?
Golly: No, no, not all of it. I don't even know all of my plans yet.
Archie: I like her.
Golly: Umm hmm. She, and Murray, are back together.
Archie: (visibly perks up) Oh, yah?
Golly: Yup. She's gonna come up while he's
away on business next week.
Ahh, you know - to see Jessica, and Duncan.
Archie: And you?
Golly: (quickly replies) No, I mean, of course.
Archie: You'll be busy for a while.
Golly: I'm happy about the service head. Thanks.
Archie: Me too, great for you.
Golly: Joe, and I, talked. He has great confidence in you, lad.
Archie: Umm. Hey, that Andrew character.
Who invited Booth back for a piece of this?
Golly: Molly?
Archie: No, she said not.
Golly: Well, he's knowledgeable, ana-way.
Archie: That he is. Boy, that was a close one.
Golly: She might have been happy.
Archie: I don't know. Will you keep an eye on him?
I mean when we're off, and running, and his gallery is set up?
Golly: Sure-I'll check him out from time to time.
I couldn't believe he gave the kids a Van Gogh reprint and signed it like it was real.
Archie: A possible joke for you?
Golly: Yah, maybe.
(he continued to fix a lamp on the workbench-
squinting as he worked the screws out)
Archie: So you'll be teaming, with Paul, as the mall goes up.
Golly: Yes, I wouldn't have taken your offer unless I could, bow out and, get back to what I do.
Archie: Paul wants you to live at the house then-
when you're partners in the Glenbogle estate office.
Golly: I know, I know lad, but I won't do that.
Archie: Why ever not?
Golly: I'm making some other plans. I'll let you know all about 'em.
Archie: Okay. I ran into a friend of yours.
Golly: Who?
Archie: Edith McDougal-she asked me to have you call. She said to tell you, this is a quote, "the little men are back in the field and, if you come by soon, you might get to see them yourself. What does that mean?
(a reference to a
plot in 5:10)
(Golly shook his head, over and over)
Archie: Hey, I'll catch you later.
Golly: Sure, son. (big smile)
...........................................................................................................
3. Archie and Paul
Ewan has just served a dinner of 'hamburgers, americano', in the Glenbogle House dining room. They were a big hit! Archie has asked Paul to have a drink, with him, after dinner, in the library, and Lexie is off to see Jessica and Duncan's cottage renovations. Molly told them that she'll join them, in the library, after a while.
Archie handed Paul a glass, of wine, and poured one for him self.
Archie: So what do you think?
Paul: It's great. How could I not like it?
Archie: Yah? ( he looked interested )
Paul: I think it's pretty lucky that at least one MacDonald has some money. I don't think we can carry this aristocracy thing, into the next century, without some capital behind it. It's what I've been saying for so long-we have got to modernize or we aren't going to be around here much longer.
Archie: And you're okay with Joe?
Paul: Oh, yah, and Bonnie is a very nice woman-they're great together. He's got business sense, that won't stop, and she's got some very good ideas. Molly surprises me, too. And Kilwillie-who knew he'd stay on here, with Lady Dorothy, and her daughter, coming back, too.
Archie: Well, Mother's the draw there.
Paul: Not what she tells me.
Archie: Oh? Hey, I think it's great that you, and Mother, have your late night drinks together, Paul.
(Archie put his own glass down)
Paul: I know-we're okay, we really are. She says she'll stay in the house. She and Lex, enjoy each other so much. Did you see them painting the, upper hall, bathroom this morning?
Archie: Yah, more paint, on the floor, then on the walls. I guess canvas painting is different.
Paul: Yah, I guess. (they laugh)
Archie: This is what I wanted to tell you - be the first to tell you - to explain that Lex and I want to leave - be on our own.
Paul: But around here, though...
Archie: Yah, near the village - build something after the mall gets off the ground.
Paul: You'll stay til then.
Archie: Well, no, that's what I'm telling you. No, we've made a decision. After Nepal, I made promises to Lexie.
Paul: That you'd stay in Glenbogle!
Archie: Yes, but more...
That we'd stay in Glenbogle, permanently.
Paul: Good, And?
Archie: Paul, you're the laird-you will be-and I want that. I have never wanted it for myself. I wasn't ever supposed to be the head of all this. I did my bit. I really want out.
Paul: Yah, I'm not surprised.
Archie: Well, I've got an idea for you.
Since it will be just you, and Mother now-
how about paying lodgers?
Paul: I don't want a B & B, Archie! I'd hate that...
its not my thing.
Archie: Paul-hear me out. Just two people. I've got a couple-they are dying to be up here, but they can't find a place they like. You met them at the wedding-Fleming...Lance and Mary Fleming?
Paul: Umm hmmm.
Archie: So, can they stay here, at a good rate, while they look at land possibilities?
Paul: Sure. They'd want that?
Archie: I think they'd love it. He loves Glenbogle.
They have romantic beginnings here. They'll be around tomorrow, with the banking proposals, for the mall. You can ask them about it. If you will, I mean.
Paul: Sure (They grip hands and Archie gives Paul a tight, tense smile.)
So when will you two be leaving?
Archie: Right away-tomorrow.
Paul: Tomorrow! No kidding. To where?
Archie: To one of Kilwillie's cottages-
the one over by the Nairn place. Lexie loves it, and he'll let us have it for as long as we want.
Paul: Who'd he evict this time?
Archie: No, no, not this time.
He's redone it, and no one's in it.
Paul: Sounds good.
Archie: So, you're okay with it...us leaving?
Paul: Dunno.
Archie: What's the matter?
Paul: It just seems funny - me in the Big House and you coming up for Sunday dinner.
Archie: Well, why don't you come down to us for Sunday dinner, then?
Paul: (laughing) Okay, I guess that works.
(Molly walked in - Paul got up and walked over to her)
Paul: Hi Molly. Sit down, please… You, too, Archie.
Archie: What?
(he sat down - Molly remains standing awaiting what she thinks is bad news)
Paul: I feel like I need a drum roll.
You know you said to give you any ideas for the mall's name that I might have?
Archie: Yes?
Paul: How's this. (he looked at Molly)
The "Laird Jamie" or "The Laird James"
(silence for seconds)
Molly: Paul, I don't know what to say.
Paul: Well, he'd have been the laird.
Archie: Until you came along!
Paul: (smiling) I'm gonna pretend you didn't say that.
He didn't get his chance, Molly. Let's make him the
laird in name.
Archie: Paul, I like this.
Paul: I was thinking that it could be on the sign that way-"The Laird James," but called "The Laird".
For the short form, you know, "Sis, let's go eat at, The Laird."
Molly: "Honey, let's go shop at, "The Laird".
(she giggled)
Archie: "Reginald, pick up the dry cleaning, at
"The Laird", while you're out. (they all laughed)
Molly: Do we have to ask Joe?
Archie: Nope. He said all of these decisions are for Paul and I to make. And Mother, you of course!
Paul: Correction, Pal, he said these decisions are for you two to make.
Archie: Together, really. (he turned to Molly)
Jamie's name would be seen by people every day. I mean-Mother, these will be large signs!
He'd be on letterheads-on everything.
Molly: Let's do it!
(she hopped up, and down, and the guys laugh)
(Molly stood in the middle between them, took each by the arm, and walked out of the room)
Molly: I love having three sons.
(Paul caught his tweed 'Laird's coat' on a rough piece of wood, and grinned widely, when he was able to free it. Archie, and Molly, burst into laughter, when they saw the tear he'd made. )
Paul: What?
.............................................................................................................................................

ARCHIE'S FOUR CONVERSATIONS continued:
4. Archie and Joe
(the character of Joe MacDonald is seen in Episode 2:8)
Joe MacDonald was up early, for his meeting, with Archie at Glenbogle House. Joe had stayed on, while Bonnie and their son, Rick, returned to Atlanta. Molly had gone along with Joe, to the airport, to take Bonnie, and Rick, for their flight. She hugged Bonnie, and said she'd call her in a few days. On the way back, to Glenbogle, with Molly, Joe talked, on and on, about how much he owed her.
Joe: If it hadn't been for your encouragement Bonnie wouldn't have agreed to leave, our home in Atlanta, for the Highlands.
(Molly thought he gave her too much credit.)
Molly: The time was just right, Joe. It was Bonnie who first came up with the idea, anyway.
I thought it was startling actually. Too American!
Joe: Too crass? (he laughed)
(Molly smiled non-committally)
Joe pulled the rental car into the driveway, and Molly called out)
Molly: There's Archie!
Joe: Good, good.
Archie: Here, Mother...
(he tried to help her out of the car)
Molly: I'm okay. I'm not old, Archie.
(they both laughed)
Come on in, Joe.
(Archie led Joe to the door, and looked back when
his mother ran past them and inside)
Molly: Gotta run, boys. I'll send something in for you.
Archie: I'm sorry Bonnie had to go back, but, Joe, I'm glad this worked out for us.
Joe: Me, too. Well, Bonnie, she enjoyed her wee...See! I'm getting it! Her wee vacation-she extended it-really it was time for the two of them to get back. Soon, no one will be going back, except when we vacation, to the United States!
But, let's get started there's a lot to talk about.
Archie: If this is going to work, we have to be on the same page.
Joe: Oh, I think we are. I won't touch the rest of the plans. You'll get a professional architect soon. If you want me to, I can meet with him, but you can tell him what you want. They can interpret. As I see it, I'll just back this - but I would like to make a few suggestions at this point. You know, out of experience.
Archie: Suggest away (he smiled brightly)
Joe: Well, here I've got some drawings.
Archie: Let's take them to the dining room table.
(When they got there, Joe spread out his plans. He put a vase on one upper corner, and a crystal ashtray on the other. Archie helped him secure the bottom edges of the map. He was surprised that Joe had an architect render, even these, preliminary plans)
Joe: (pointing) You can't have a mall without some wider road lead-ins. Otherwise you'll have tourists running up each other's backsides. Now you can take, or leave, the specifics of these plans, but it will give you a starting point.
Archie: Thanks, these are great.
I've never built a commercial building.
My restaurant building in London was leased.
Joe: I've had them draw the additional street changes necessary, with 200 ft. wide streets, each with central islands. There would be parking, of course, and plantings on the islands…lots of trees. This could look really...what's the word when you mean classy, but scaled down. Nice, you know... British-ey?
Archie: Charming...Quaint?
Joe: Yes, Quaint. This kind of thing looks really good - not commercial at all. In Greenwich, Connecticut they have them. An awful lot of people come, in and out, and it always looks 'town and country' like. I've seen this in California, too. In some of the smaller towns you'd think you were in Europe. We have these in the newer places in the south, too. Atlanta is one of the most modern cities you can imagine.
Archie: I want to see it someday.
Joe: With streets like this, the traffic moves, in and out, quickly - that's the best part.
Archie: Traffic? I've never seen traffic in Glenbogle.
The villagers would hate anything like that. They'd feel driven out.
Joe: They won't hate it. They won't really see it if you plan this right. You've got to have parking places so the cars aren't parking on the streets. There wouldn't be room for all of the business personnel.. let alone the shoppers without a parking garage. And you've got to put in the kind of stuff the locals want to do there. Molly seems to have a pulse on that - I mean what the people who live here want to buy, plus a lot of Scottish stuff, for the tourists.
Archie: For the Highlands here, this glen, we've got to get another word.
'Tourists' isn't going to work as a marketing tool.
Maybe we could say, hmmm... "Day Guests?"
Joe: Ha ha...well, call them whatever you like-
you're gonna get plenty of 'em.
You've gotta count on a lot of people in the summer.
Archie: Yah. (he looked skeptical)
Joe: Are you worried about your brother nixing everything? You thought he might have environmental issues. I mean you'll do the mall, even if Paul doesn't like it, won't you.
Archie: Paul's on board.
Joe: Did you ask him if he'd help?
Archie: Yes, he's gonna be there all the way. He's even suggested that we honor my late brother with the mall's name.
Joe: James?
Archie: The Laird James, or just the Laird Jamie. We said it could be
called just, "The Laird Mall", too.
Joe: Hey, now that is classy! I like that! That's a great honor. I would like to memorialize Joe, jr. that way.
Archie: Joe, we can do that. We'll definitely do that. What about the main street name? The skies the limit. You think about what you want. You deserve it. You both do...look at what you and Bonnie are doing for us.
(joe smiled)
Archie: Here's our coffee.
(Ewan came in with a tray, put it down, winked at Archie, and left)
Archie: Thanks, Ewan. Umm, biscuits.
(to Joe) He makes these.
Joe: Coffee? That's great.
Archie: Ewan makes great coffee too. The kid's amazing. At his age, I was just learning. I don't want to have comparisons in our cooking made even now.
Joe: You don't show him your stuff?
Archie: No, I've been trying to stay out of Ewan's kitchen.
(Joe rolled up the plans and they both took their own cups from the tray, and Archie poured the coffee)
Joe: I'm surprised to see coffee here.
Archie: Yes? I thought that's what you prefer.
Joe: Oh, I do. It is. (he smiled)
You gonna have a coffee place in the mall?
Archie: Yah, I'm thinking of bringing in a chain that has had good luck in Glasgow.
Joe: Starbucks?
Archie: No, I think that's a bit too forward moving for Glenbogle.
Joe: That kind of thinking will hold you back, boy.
Archie: You may be right. This is all pretty new.
....................................................................................................................................................

to be continued
The next installment will be:
29. Final Conversations- two final dialogues
1. Duncan and Jessica
2. Golly-Molly-Kilwillie
...............................................................................................................................