Post by mary ailean on Aug 11, 2008 17:44:26 GMT
29. C. FINAL CONVERSATIONS…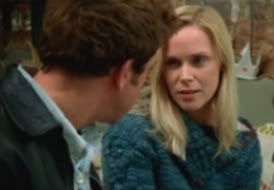 JESSICA AND DUNCAN
Duncan, and Jess, are sitting in, the front room of, their new cottage. Assorted wedding pictures, and proofs, are spread out, in front of them, on a low coffee table. Duncan is sitting on the edge of the couch, and Jessica is, on the floor, in front of the table.
Jess: I thought we'd never get all the thank you cards out. I've got a whole new lease on life!
I can't believe how many people ended up com...ing!
Duncan: Auntie Liz invited the whole village, and the MacDonalds…
so important around here.
Jess: (she is drinking from a water glass, the Irish crystal set from the Flemings) Did you hear that the Flemings are moving, into the Big House?
Duncan: Yeh, I love that guy - didn't used to - figure he's okay now.
More than okay...
he's greeeet.
Jess: Well, cultivate him. If we want a bigger house, some day, we'll have to ask for a loan from his mall bank. (laughing)
Duncan: But, we are going to be making
alot of money soon.
Jess: Hope so. We need it. We got so many presents…we need more room!
I'm not complaining, though.
Duncan: Got a lot of nice things. My favorite present was from Geordie McCann-that one-armed-bandit-gambling umm...slot machine!
Jess: (She glanced up from arranging the pictures into groups) You're joking-That's your favorite present? Where are we gonna put it? The horse was my favorite present.
Duncan: It's a good thing Paul doesn't charge us to board Julep.
Jess: Molly told me that because Orlean is happier, with her stable mate, it's a good set-up for them. She won't even let me pay for the feed, but we'll insist when we start work in the village. Molly said that she loves to watch them, chasing after each other, in the pasture. I love the fact that she and Dad can ride together. They started to do that again this week.
Duncan: Yeh, I like to see them, too.
Does she know how much he cares about her?
Jess: I don't know. It's written all over his face, though. I don't think I should get involved. I don't know what he thinks about Mum and Murray together, again. I mean, I wasn't surprised. What surprised me was when they separated.
Duncan: (picking the pictures up and looking at each one) Golly seems worried, all the time, but that's probably because of all the new plans with Paul. I can't think of Golly, ah...Dad as romantic anyway.
(he laughed)
Do you think that he will ever get re-married?
Jess: He can be romantic. Mom says so. You wouldn't believe the things she tells me about him.
(she giggled) He does everything for a woman evidently. He makes the bed, and does the dishes.
Duncan: I do that stuff.
Jess: Yes, I know-you're great. He and Mom were preee-ty chummy the week of the wedding. She really cares about him alot, but she loves Murray. I wonder if you can love two people at the same time. I don't think I ever have.
Duncan: So, I don't have anything to worry about?
Jess: I guess not.
Look at this one of you on Julep!
( she held up a proof )
How did Gavin ever catch you up in this warrior position?
I mean look-both front legs in the air!
Duncan: Lemme see
(he grabbed the picture and looked at it)
They're not.
Jess: The horse's legs, Duncan!
Duncan: What are we gonna do with Julep when we live closer in?
Jess: Julep will be fine, at the MacDonald stable, with Orlean. We won't be far... 'sides, we said we'd stay here, for awhile, 'til you figure out the job set up. I love it here, anyway.
You don't realize how busy you're gonna be, Duncan.
Duncan: Oh, a-do.
Jess: We need to stay here for another reason. Dorothy's man, Barkley, did such a good job on this place. If we leave, it won't have been worth it.
Duncan: Yah, I see what you mean.
All those stop-overs of Dorothy's.
Jess: I thought they'd be done when we got back-but no.
She kept ringing up, and coming back.
It was a gift with strings.
Duncan: Your Dad was so...
Jess: Our Dad...
Duncan: Dad I mean, Dad was so funny. That time he came out of the bathroom,
and she was facing him in the hall.
Jess: She said she wanted to check the curtains in there. (laughing)
He jumped a foot. (she stretched her legs out under the table)
He likes her though.
Duncan: He said that?
Jess: Yah, he says she's one of those people
that once you crack the shell-
there's a good nut inside.
Duncan: A shriveled up one.
(he's shaking the table rhythmically with his leg)
Jess: Stop it! Dunc, help me here. Here's a nice picture of Molly and Katrina.
Who was that guy, at the school, with Maureen yesterday?
Duncan: I didn't know you saw him. That was Fergal. Fergal McClure.
Jess: Yah? He's a looker.
(she put some of the pictures back in the box they came in)
Duncan: But you don't look anymore.
(he helped her put some of the pictures into the box)
Jess: I didn't. He was just walking into the school building. I thought he was in New Zealand.
Duncan: Was. He came back. Loves Katrina.
Havin' a go again.
Jess: What do you mean?
Duncan: He'.....s baaaack to woo her.
He told me she called him, and now he's back.
Jess: Oh. Does Lexie know about this?
Duncan: Dunno. Hey, the thank you note from the dueling MacDonalds came back.
Jess: What?
Duncan: Well, the new post lady handed it to me in town-said they were off on a cycling trip, which is so funny, if you think about it. She said I'd better send it again, 'cuz she can't hold mail this month while they're painting the back of the post office.
Jess: That's crazy. That's what the post office does.
Duncan: Well, this is Glenbogle.
You don't get everything.
Jess: Well, we soon will. When the mall is finished Glenbogle will be 'on the map'. The alpaca blanket Greg and Morag gave us is so beautiful. The crests and the M - extraordinary! Maybe we can make the drive over, you know, take something over to them, with the thank you, when they get back.
Duncan: Okay, here it is.
(he pulled the envelope out of his sporran)
What're ya gonna do with the pictures?
Jess: An album, of course, Duncan. Daaah.
(she tugged at his kilt, and he plopped down, beside her, wrapping his arms around her)
Duncan: I don't want to do this now. This is my day off, and I don't want to work.
Jess: But, I'm the one doing it. You're just talking to me. (she laughed)
Duncan: Still. Let's go somewhere-do something.
I've got Tourism School all next week.
Jess: Already?
Duncan: Yeh, Archie says we don't need a building to start, and that we have to work that into the mall plans.
The guy is coming next week.
Jess: My husband, the wee business man. (she giggled)
Duncan: Don't laugh, Jess. Besides, I'll still be wearing this kilt. Paul said he thinks it's important for my job with the tourists. He says that I'd better get a new one, though. Do you think it would be more professional to get one of those utility-kilts? I saw one in green. I like all the extra pockets and the hammer sling-though I don't carry a hammer.
Jess: No, no, the McKay. You, in a kilt, in the new office. I guess that is fitting the job to the man.
Duncan: What do you mean?
Jess: You won't be just any businessman. On the job you'll be a hunk...or is that a lunk?
Duncan: Oh-yah?
(he wrestled her to the ground, and they scattered the wedding pictures)
Jess: Okay, let's go down to see the mall site again. I know that's what you want to do. We've only been there 10 times. How're ya gonna stand to wait until they break ground, Dunc? Lemme pick these up first, though.
Duncan: The car is at your (he paused) at Dad's place. We'll have to walk down there first.
Jess: Okay.
Jess grabbed her wallet, from the shelf, by the door, as Duncan waited for her. She touched Uncle Angus' horseshoe, for good luck. It was hung, as he specified, by the door opening. Jessica smiled at her husband, and the two exited.
Duncan took the key out, of his sporran, to lock the front door, while Jess looked at a hole, in the window caulking, that needed to be fixed. Duncan turned, put his arm around Jessica, and walked with her to the dirt path, in front of the house, and 'they wa'r awa'.
'AND ON HER LOVER'S ARM SHE LEANT
AND ROUND HER WAIST SHE FELT IT FOLD
AND FAR ACROSS THE HILLS THEY WENT
IN THAT NEW WORLD THAT IS THE OLD.'
Tennyson
<<<<>>><<<>>><<<>>><<<>>><<<>>><<<>>><>><>><>>
concluding sections:
30. CHANGES FOR THE VILLAGE
+ a list of the shops in the Laird James Mall.
+ a brief final account of some of Glenbogle's characters.