Post by Marie on Nov 3, 2008 21:54:13 GMT
Hi boglies,
During my short break at my son's in Surrey, I didn't manage to take many photos as the weather was quite horrible for most of the time but here are a few.
Day 1, last Thursday, I left on the 9am coach to London, armed with a good little book and plenty of sweeties. (Jeff laughed and said I looked like Paddington Bear with my big label on my little rucksack). It seemed to take ages around our little villages but then a lady boarded and sat next to me and from that point on we chatted all the way, put the world to rights and the time went so quickly.
Soon we were at Victoria coach station and I just followed everybody who had those little suitcases on wheels (who looked like they knew where they were going) along the road half a mile, to Victoria mainline train station. I didn't dare use the ticket machine, thought I'd end up with the wrong ticket, so I queued for 10 mins to actually buy one from one of the kiosks. I asked the chap which platform to board my train and he said No.9. Great I thought. Ticket in hand I headed for No.9. The train was supposed to leave at 1.30, nobody on the platform - all on the train, shall I just get on? No, best make sure and ask the guard who was standing at the far end of the platform. I trotted up to him eventually. To my amazement he told me this wasn't the train, I needed platform 11 and I had just 4 minutes to get there! Yikes
My feet had not run that fast for a long time! Huffed and puffed to No. 11, no train there, but next to at No. 12 people were boarding a train. I looked up at the electronic display board and it said Epsom ...stopping at ... etc. My train! Great! At last I'd found the correct train and sat back happily in my seat.
Drizzling when we got to Sutton, Surrey (just 30mins out of London S.W.) and I made my way through the town centre and thence out to the road where my son's flat was. I had to fumble in a fairly dark garage to find his door key, then let myself in. It seemed strange being in their kitchen, creeping about on my own (my son and his girlfriend said they'd be in about 5pm), so I put the kettle on to boil and sat down in their lounge, noting how pleasant they had the decor now, modern orange and white. The kettle seemed to take ages, no wonder - I'd left the lid off and when I went into the kitchen there was steam everywhere - all over the plug above, water dripping everywhere! Anyway finally got my cup of tea and relaxed a while. I went back into the town centre for a wee while just to look around.
From one of the street vendors position, a young man grabbed my hand and asked me if my nails were real - 'yes' I said, he then buffed one of my nails with a machine and told me all about some marvellous product (it was quite nice standing there - my hand being held by this handsome young chap

), then he told me the product was £25 ... pfff. goodbye I said and carried on walking.
It was lovely to see my son David and his girlfriend and we had lots to talk about. They made me a succulent Chinese meal that evening.
Day 2, Friday. David had to go into his office for a meeting and dropped us in the town where his office was, and Ilaria and I went around this fabulous centre, it was like stepping into a space world... all glass, escalators, lifts etc.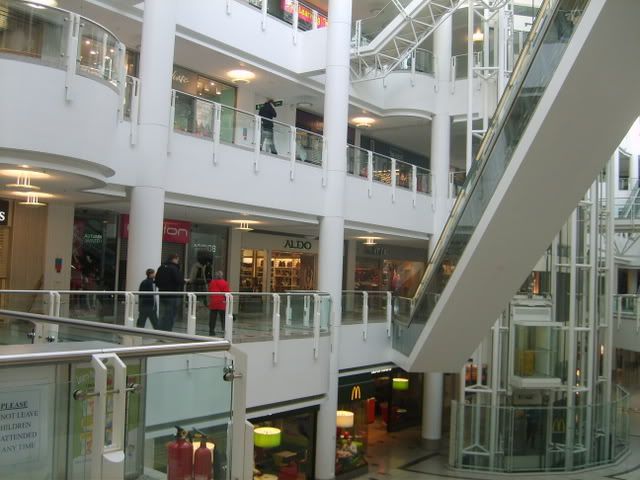 Then he met us at lunchtime and took us back through Richmond Park where we stopped to watch the deer. I took this photo with a zoom and it's not very good, but the deer reminded me of Big Eric
Day 3, Saturday. We went to Windsor Castle, very damp and dull. Unfortunately we weren't allowed to take photos inside at the glorious rooms. I'll try to find a link to them soon.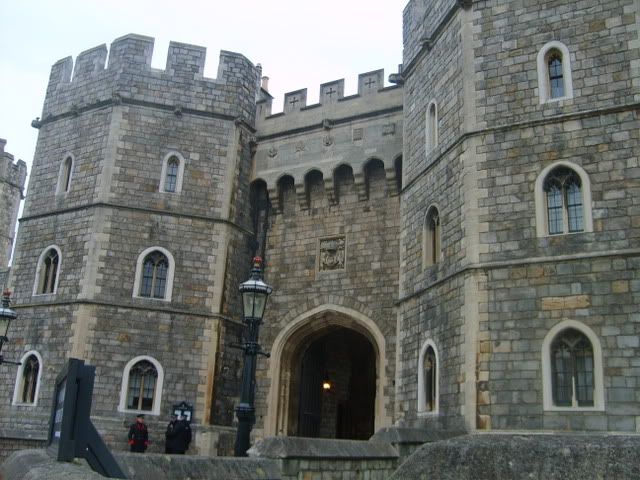 We look so daft in this photo. After buying our entry tickets to the Castle we were given audio devices which hung around our necks to listen to descriptiions of everything. At the time this photo was taken David's audio device was hanging at the front of his trousers!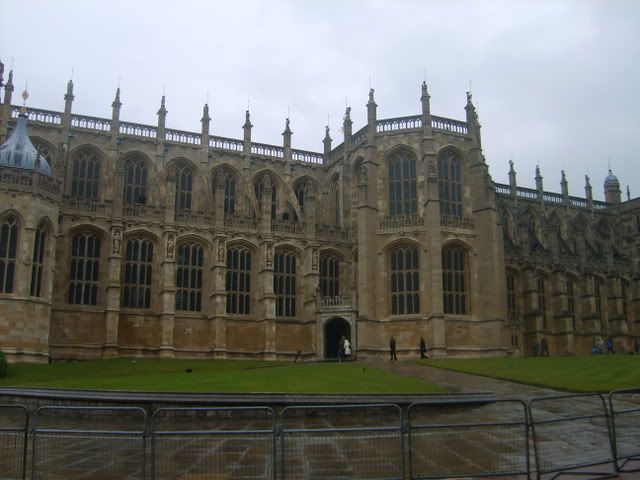 Finally on the Sunday, when I came home, the sun came out. This is just a quick pic of the Embankment taken from inside David's car. He zooms around London and knows the routes so well.
David and Ilaria took me back to the coach station, where I begun my journey home. They'd been so attentive to me the whole weekend, nothing was too much trouble.
The coach took the same route as before, past Big Ben, The London Eye, but it soon became dark. The lady saw me who I'd travelled with going up there, and sat next to me again, but we were both too tired to say as much. It's lovely to go away but always lovely to get back home, isn't it? Jeff met me and took my bags and I was soon eating the splendid dinner that he'd cooked.